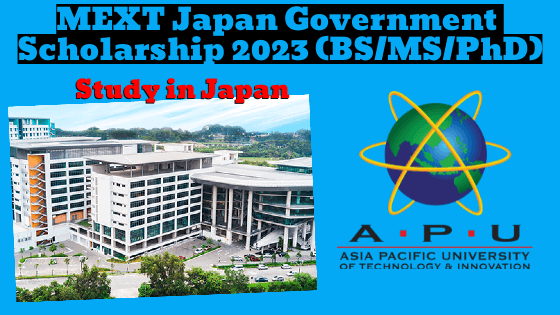 MEXT APU Scholarship is accepting the application for MEXT Asia Pacific University Japanese Government Scholarship 2023 to Undertake a Full bachelor's, Master's Degree, and Ph.D. Degree Program at the APU University.
MEXT APU Japan Scholarship is a Fully Funded Scholarships for International Students in Japan. Asia Pacific University is One of the Top International Private Institutions in Japan.
MEXT Japan Government Scholarship
Summary
MEXT APU Japan Scholarship Funds International Students in Japan.
Asia Pacific University is a top Japanese private institution.
This grant goes to APU-recommended international students.
MEXT offers this fellowship to boost international competitiveness.
Tuition 100% (covered by the APU Tuition Reduction Scholarship) 144,000 JPY for living costs (amount subject to change). Beginning and ending economy class flights between home and APU.
APU recommends international students for this scholarship. The Japanese Ministry of Education, Culture, Sports, Science, and Technology (MEXT) offers this scholarship to promote international competitiveness and international student exchange in Japanese universities.
MEXT Japan Government Scholarship
| | |
| --- | --- |
| University | Asia Pacific University |
| Country | Japan |
| Study Level | BS/MS/PhD |
| Deadline | November 16, 2022 |
Scholarship Details
One hundred percent of the tuition (covered by the APU Tuition Reduction Scholarship)
144,000 JPY per month is budgeted for costs of living (amount subject to change)
The beginning and end of the program both include round-trip airfare in economy class between the participant's home country and APU.
Eligibility
Have the intention of studying in Japan when you are outside of Japan
Not be of Japanese nationality and be a citizen of a nation that maintains diplomatic ties with Japan.
You must have your birthday on or after April 2, 1985.
Note
Active service military or military civilians are not eligible at the time of application.
Recipients must arrive in Japan during the APU-specified period.
Applicants must have more than 3 years of research experience after the last payment of a previous MEXT scholarship.
Applicants can't have another MEXT scholarship.
This scholarship recipient cannot obtain another scholarship at APU.
Recipients must be students in Japan.
Proficiency in language
The following list of Japanese and English language criteria must be met by applicants to be considered for the position:
English
Possesses an English language test score higher than or equal to a B2 on the Common European Framework of Reference for Languages (CEFR) scale (e.g., TOEFL iBT 72 or above, IELTS 5.5 or above).
Has graduated from an accredited academic program in which English was the primary medium of teaching and which satisfies the prerequisites for admission to the Aisa Pacific University in Japan
How to Apply
The application for the APU must be submitted by November 16, 2022. There is no need to submit any further paperwork to be eligible for this scholarship.
APU conducts a thorough examination of the application materials and chooses exceptional individuals to suggest to MEXT
Applicants who have been chosen to be recommended for this scholarship are informed of the results of their complete APU application.
The chosen applicants will need to finish and submit extra MEXT (SGU) application paperwork to APU.
The results of the scholarship award competition are submitted to MEXT for final consideration.
Send in your application for the APU before November 16, 2022. (for September 2023 Enrollment).
Last Date for Apply– November 16, 2022
More Opportunities
Fully Funded University of New England Scholarship in University of New…
Griffith University International Postgraduate Research Scholarship in Australia
Fully Funded National Chiao Tung University Scholarships in Taiwan
Huayu Enrichment Scholarship (HES) for International Students in Taiwan