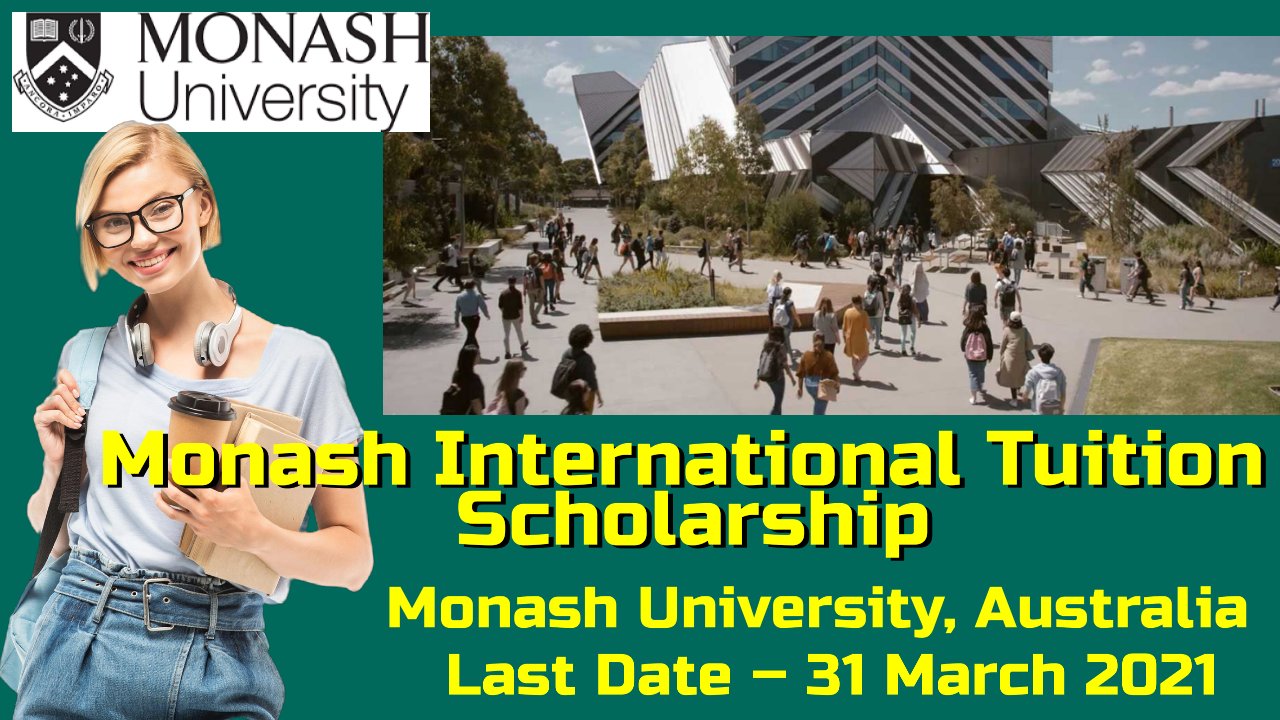 Designation/Position- Monash International Tuition Scholarship
Monash University, Australia invites application for Monash International Tuition Scholarship for eligible and interested candidates
About- Monash International Tuition Scholarship (MITS) are provided by Monash University to support international students undertaking Research Doctorate and Research Masters degrees. Monash scholarships reward excellence and help you achieve your ambitions, regardless of your circumstances. We're seeking the curious, the optimistic, students who want to make a difference in the world.
Our scholarships help students from all backgrounds transform their lives by easing the financial burden, so you can make the most of university life.
A MITS covers the course tuition fees that would otherwise be payable by the student.
Study level- Research Doctorate and Research Masters degrees.
Location- Monash University, Australia
Eligibility/Qualification–
All graduate research degrees have minimum academic entry requirements which must be met by all applicants. Some courses have additional requirements which are outlined in the relevant course entry in the Monash University handbook.
The minimum academic entry requirements differ depending on the graduate research degree:
English language proficiency
All graduate research degrees require sound English language skills. It is important you understand what English language proficiency requirements are applicable, noting that certain faculties have higher requirements. Should you be required to undertake an English language proficiency test, ensure you check which tests are accepted by Monash.
Job/Position Description- 
Monash International Tuition Scholarship covers the cost of:
Monash scholarships are very competitive and are awarded based on your academic record, any research outputs and prior research experience. If successful in receiving a MITS, please ensure you familiarise yourself with the conditions and benefits as specified in the policy and procedures.
How to Apply- 
Application for graduate research scholarships is done at the time of applying for your course, unless you are already enrolled.  Whether you are a new or current student, the same application process is used for both admission and/or scholarship via our Applicant Portal.  You do not need to specify which scholarship you are applying as you are automatically considered for all graduate research scholarships (where eligible).
INTERNATIONAL (Round 1)
opens 1 September, closes 31 March
INTERNATIONAL (Round 3)
opens 1 April, closes 31 August
Last Date for Apply– 31 March 2021
More Opportnities:-
UWGSS Graduate Studies Scholarship at the University of Winnipeg, Canada
Amsterdam Merit Scholarship at Universiteit van Amsterdam, Netherlands
Bangchak Master Scholarships 2021 at Asian Institute of Technology (AIT) in Thailand
Postgraduate Research Scholarship at The University of Sydney, Australia