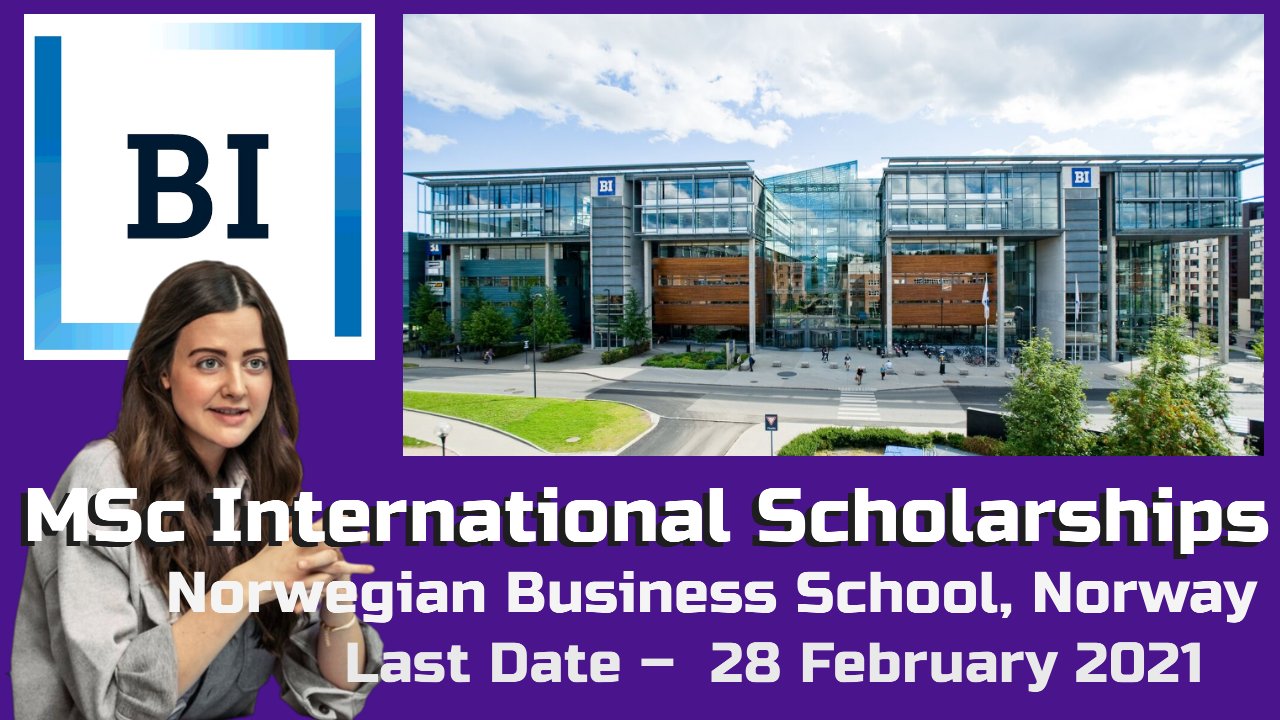 Designation/Position- MSc International Scholarships
Norwegian Business School, Norway invites application for MSc International Scholarships for eligible and interested candidates
About- Awarded to students with a strong academic record, the MSc International Scholarships are open to international applicants. BI Norwegian Business School is an independent, not-for-profit foundation and the main provider of research based knowledge on business and management disciplines in Norway.
Study level- Master of Science degree
Location- Norwegian Business School, Norway
Eligibility/Qualification–
Candidates demonstrating strong academic performance who apply for, and are accepted in, a Master of Science degree.
Only candidates admitted to a Master of Science programme commencing Autumn 2021 will be considered for this scholarship.
BI ensures distribution of scholarships among MSc programmes.
Priority may be given to applicants from selected countries, selected partner schools of BI, or enrolled in priority master's programmes.
All candidates will be assessed according to the ECTS scale. Applicants with international bachelor's degrees will have their grades converted to the ECTS scale.
Other factors that may influence ranking can be other academic achievements, GMAT/GRE/CAT scores, extracurricular achievements, and special personal achievements.
Preference is given to applicants seeking to earn their first master's degree.
Scholarship offers will be sent to selected candidates throughout the admission cycle. All scholarships will be awarded by the end of April with the exception of the A. Wilhelmsen Foundation Scholarship and the BI-QS Scholarship which are awarded later in the spring.
Job/Position Description- 
The value of the MSc International Scholarship varies. Some scholarships cover partial or full tuition for the first year only while others can cover partial or full tuition for up to two-years if the student achieves the academic progression requirements. Some MSc International Scholarships may also include a one-time stipend to assist with living expenses in the first semester. The stipend amount is determined after an individual assessment of each candidate.
How to Apply- 
Write a scholarship application letter, maximum one-page, outlining why you are deserving of this scholarship and how your academic record qualifies you for consideration.
Upload the scholarship application letter with your complete application for admission on the online application portal.
Last Date for Apply– 1 March 2021
More Opportnities:-
UWGSS Graduate Studies Scholarship at the University of Winnipeg, Canada
Amsterdam Merit Scholarship at Universiteit van Amsterdam, Netherlands
Bangchak Master Scholarships 2021 at Asian Institute of Technology (AIT) in Thailand
Postgraduate Research Scholarship at The University of Sydney, Australia