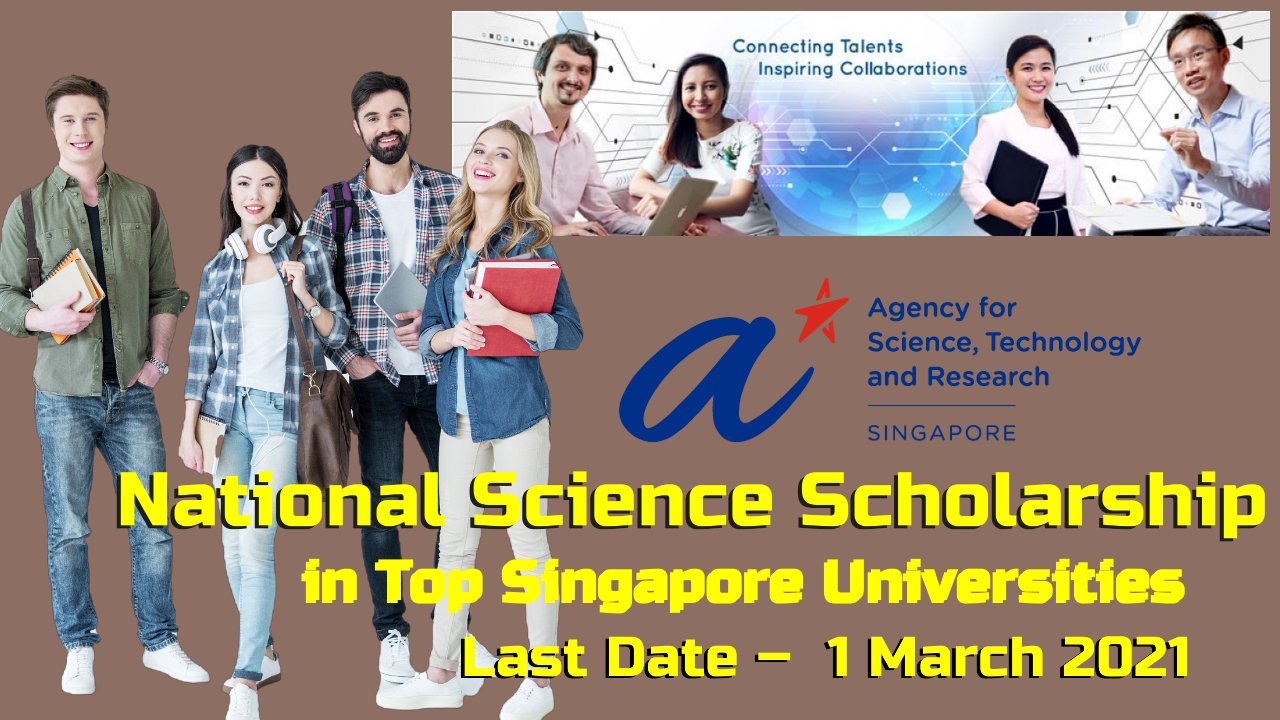 Designation/Position- National Science Scholarship
Agency for Science, Technology and Research, Singapore invites application for National Science Scholarship for eligible and interested candidates
About- Explore your interest in the computer and information sciences, engineering, physical sciences or biomedical sciences as an undergraduate at some of the world's finest universities with the National Science Scholarship (BS)..
As the only through-train scholarship in Singapore, the NSS provides for your undergraduate studies and PhD training. Through this scholarship, we seek to groom young talents for a career in science and provide them with opportunities to work in some of the world's renowned research institutes and learn from the best scientific minds.
Study level- undergraduate
Location- Agency for Science, Technology and Research, Singapore
Eligibility/Qualification–
Be Singaporean. Applicants of other nationalities must intend to take up Singapore citizenship
Have achieved excellent academic standing in the GCE 'A' Levels (preferably with 11 AUs), polytechnic diploma (preferably with Merit) or equivalent qualifications (e.g. International Baccalaureate or NUS High School diploma)
Other requirements:
Applicants should have a keen interest in Science and research. Preference will be given to candidates with experience and notable achievements in science- or math-related projects and activities
Male scholars are required to serve National Service prior to commencement of undergraduate studies
Applicants are encouraged to sit for the SAT tests to broaden their choices of institutions for their undergraduate education. Although A*STAR does not mandate a minimum SAT score as a qualifying condition for the undergraduate scholarships awarded for studies, applicants are encouraged to submit their SAT scores, if available, to be included in the overall assessment of their applications.
Job/Position Description-
Successful applicants will be given support for their undergraduate studies, comprising*:
Full tuition fees
Monthly allowance
Annual return airfare
Pre-studies allowance
Research attachment opportunities at A*STAR Research Institutes
Mid-term NSS (BS) awardees will be offered the same terms of support as the direct NSS (BS) scholars from the point of the award, without retrospective payment.
*Rates/allowances vary according to country and university, and are subject to adjustments by A*STAR from time to time
How to Apply-
(i) Applicants with GCE 'A' Level/ International Baccalaureate (IB)/ NUS High School of Mathematics and Science Diploma/ Polytechnic Diploma
To apply for NSS (BS), click here. APPLICATION DEADLINE: 1 MARCH
(ii) Applicants in undergraduate Year 2 & above (Mid-term NSS (BS))
To apply for Mid-term NSS (BS), click here and select 'Mid-term NSS (BS) Application'.
APPLICATION DEADLINE: 1 MAY
Only shortlisted applicants will be notified.
Last Date for Apply– 1 March 2021
Bangchak Master Scholarships 2021 at Asian Institute of Technology (AIT) in Thailand
Postgraduate Research Scholarship at The University of Sydney, Australia