Technical Project Superintendent Position in IIT Jodhpur
Designation/Position-  Position in IIT Jodhpur
Indian Institute of Technology Jodhpur, Rajasthan, India invites application for Position in IIT Jodhpur from eligible and interested candidates
About- Indian Institute of Technology Jodhpur was established in 2008, to foster technology education and research in India. The Institute is committed to technological thought and action to benefit the economic development of India. Scholarship in teaching and learning; Scholarship in research and creative accomplishments; and relevance to Industry are three driving forces for us at IIT Jodhpur. Position in IIT Jodhpur
Research/Job Area-  Metallurgical Engineering
Location-  Indian Institute of Technology Jodhpur, Rajasthan, India
Eligibility/Qualification–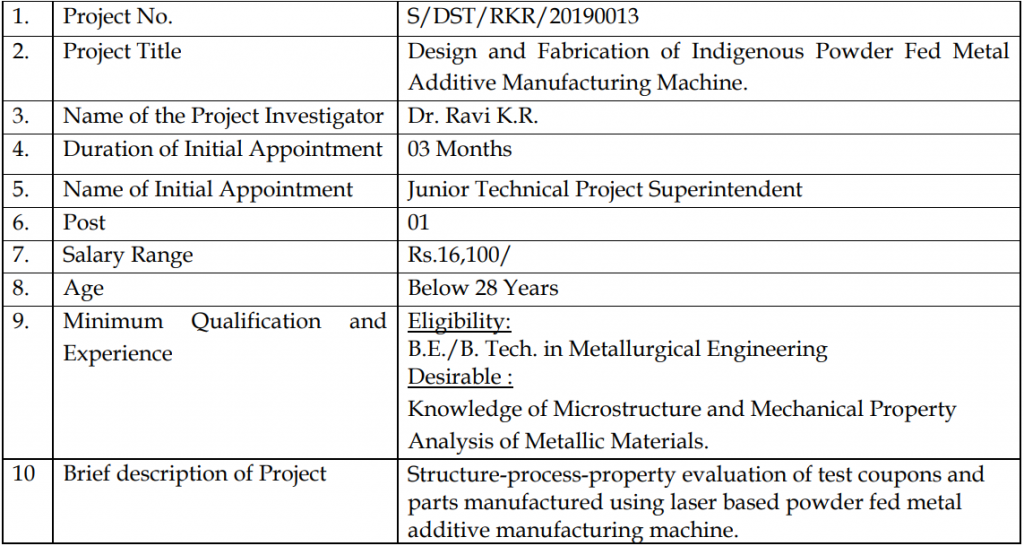 Job/Position Description- 
Applications are invited from the citizen of India for filling up the following temporary position in the Sponsored Research project at this Institute.
The position is purely temporary, initially for a period of 03 Months, and extendable but co-terminus with the duration of the project, on contractual basis with consolidated pay.
How to Apply-  The candidates possessing the requisite qualification and experience should apply through ONLINE process up to 18 September 2019.
After the submission of the online application, applicant are required to take the printout of the application and send the application along with all self-attested relevant supporting documents by post to the Institute at the address given below:
Officer In-charge Office of Research & Development, Indian Institute of Technology Jodhpur, NH-65, Nagaur Road, Karwad, Jodhpur – 342037, Rajasthan
The envelope should be super scribed with "Advertisement No……………. and Application for the Post of …………….."
Last Date for Apply– 18 September 2019
The application must reach the Institute on or before to 25 September 2019.