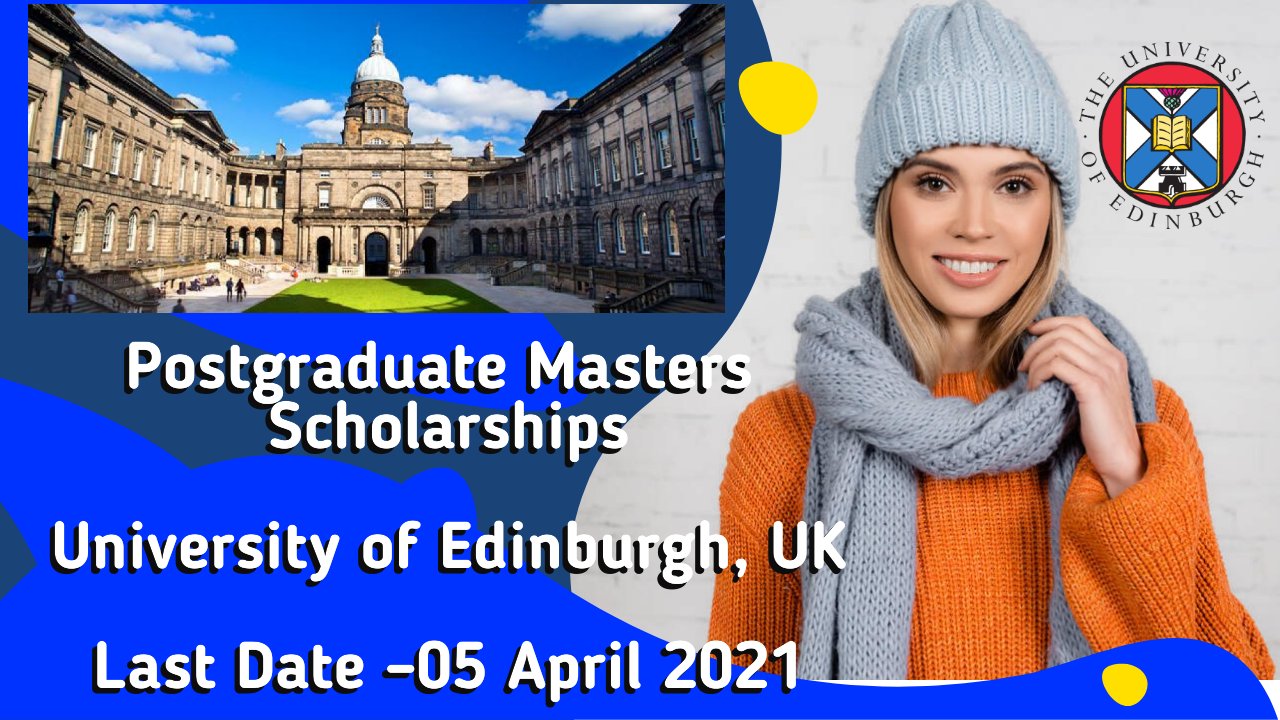 Designation/Position- Postgraduate Masters Scholarships
The University of Edinburgh, UK invites application for Postgraduate Masters Scholarships for eligible and interested candidates
About- The School is pleased to invite applications from outstanding candidates for a range of Masters scholarships for 2021-2022 entry.
Competition is open to all applicants who are offered a place to study on an on campus postgraduate taught masters programme.  Awards are made on the basis of academic merit.
Study Level- Master's Degree
Location- The University of Edinburgh, UK
Eligibility/Qualification–
The School of DIvinity is delighted to invite applications from outstanding candidates for a range of masters scholarships designed to attract the best and brightest candidates to study in Edinburgh.  Eligible applicants must be offered a place to study on-campus for a Masters degree within the School of Divinity.
Eligible applicants should not wait for an offer of admission before applying for the scholarship but an offer of admission is necessary to be awarded a scholarship.
Job/Position Description- Scholarships are available to cover full tuition fees (at both the UK, EU and Overseas rates). Partial awards will also be offered of at least 50% of tuition fees.
Scholarships System FAQs for Applicants (504.3 KB PDF)
How to Apply- 
In order to gain access to the scholarship application system applicants must have applied for admission to the University of Edinburgh.  Please note that, following the submission of an application for admission, it can take up to ten working days for all system checks to be completed and for access to be granted.
The online scholarship application form is located in EUCLID and can be accessed via MyEd our web based information portal at https://www.myed.ed.ac.uk
When logging in to MyEd, you will need your University User Name and password. If you require assistance, please go to http://www.ed.ac.uk/student-systems/support-guidance
Last Date for Apply–05 April 2021, 23:59 GMT
More opportunities:-
Scholarships and Discounts for International Students at University of Derby, UK
Otto Koenigsberger Scholarship at University College London, United Kingdoms
Vice-Chancellor's International Scholarship, Macquarie University, Australia