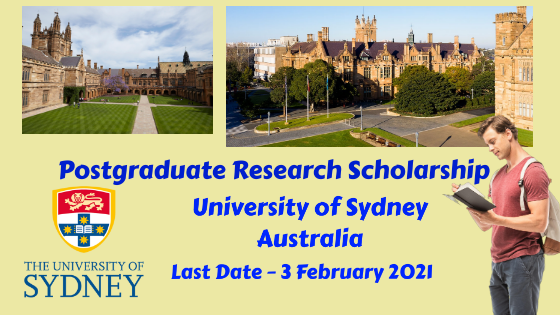 Designation/Position- Postgraduate Research Scholarship
The University of Sydney, Australia invites Postgraduate Research Scholarship for eligible and interested candidates
About- This scholarship aims to support a student undertaking a PhD within the EarthByte Group in the School of Geosciences, Faculty of Science, with a focus on applying spatio-temporal data analysis for reconstructing the sedimentary evolution of the ocean basins. Deep-sea sediments record changes in climate, paleogeography, surface environments and biogeochemical cycles through geological time. In this project ocean drilling data will be used in combination with paleobathymetric maps, paleoclimate models and machine learning tools to reconstruct the accumulation rates of key components of deep-sea sediments, with a focus on deep-sea carbonates, organic carbon and the global carbon cycle.
The EarthByte Group is a leader in developing spatio-temporal data analysis tools. In this project a range of open-source tools including pyGPlates, pyBacktrack, and machine learning tools will be applied to understand how major changes in ocean basin configurations and paleoclimate are reflected in the history of deep sea sedimentation and carbon storage. This project is part of an ARC Future Fellowship and will involve the Sydney Informatics Hub, offering broad expertise in data science, python scripting and workflow development. This project is perfectly suited to COVID-19 and post-COVID-19 times because it relies on an enormous wealth of existing analytical data and it uses data analysis methods that can easily be applied in other fields, leading to broad employment opportunities.
Research/Job Area- Postgraduate Research
Location- The University of Sydney NSW 2006, Australia
Eligibility/Qualification–
You must:
be currently enrolled or have an unconditional offer of admission to study a full-time PhD
be willing to conduct research into deep-sea sedimentology and spatio-temporal data analysis
hold an honours degree (first class or second class upper) in geosciences, or a master's degree in a related field with a substantial research component
be willing to travel to remote field areas such as the Great Barrier Reef.
International student applicants must hold a scholarship that provides tuition fees or is able to meet the costs of tuition.
Applicants must also be able to meet the costs of any travel or quarantine arrangements required by the University of Sydney or any Australian State or Federal Government Agency.
Job/Position Description-
This scholarship will provide a stipend allowance of $28,092 per annum (indexed on 1 January each year) for up to three years, subject to satisfactory academic performance. The recipient may apply for an extension of the stipend allowance for up to six months.
a. The Scholarship will provide a stipend allowance equivalent to the minimum Research Training Program (RTP) Stipend rate ($28,092 per annum and indexed on 1 January each year) for up to 3 years, subject to satisfactory academic performance.
b. The recipient is encouraged to complete their PhD within 3 years but may apply for an extension of the primary stipend allowance for up to 6 months.

c. Periods of study already undertaken towards the degree prior to the commencement of the Scholarship will be deducted from the maximum duration of the Scholarship excluding the potential extension period.
d. The Scholarship is for commencement in the relevant research period in which it is offered and cannot be deferred or transferred to another area of research without prior approval.
e. No other amount is payable.
f. The Scholarship will be offered subject to the availability of funding.
How to Apply-
Last Date for Apply– 3 February 2021
More Opportunities
University of Auckland International Masters Scholarship, New Zealand
RMIT Ready Bursary for international students, RMIT University – Australia
Axel Adler Scholarship at University of Gothenburg, Sweden
Destination Australia Scholarship (International Students) at University of Queensland