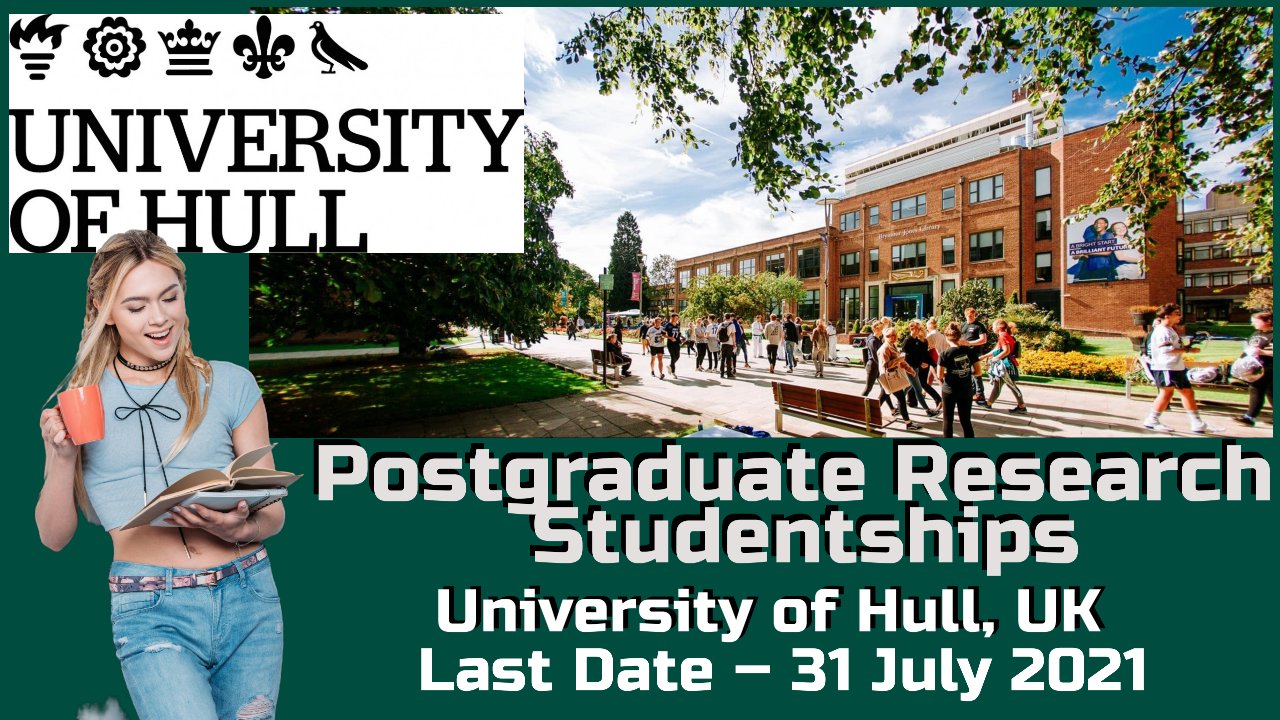 Designation/Position- Postgraduate Research Studentships
University of Hull, England invites application for Postgraduate Research Studentships for eligible and interested candidates
About- Donors and Alumni are pleased to offer a bursary worth £5,000 each to six students (Postgraduate Research Studentships) studying MSc Renewable Energy or MSc Flood Risk Management, starting in September 2021. The bursary is for students who have been awarded a First Class undergraduate degree OR meet at least one of our widening participation criteria.
Study level- MSc Renewable Energy or Flood Risk Management
Location- University of Hull, England
Eligibility/Qualification–
You can apply for the Vice-Chancellor's Circle (VCC) Scholarships if you meet all of the following criteria:
You have applied for a place on MSc Renewable Energy or MSc Flood Risk Management (if you haven't yet submitted your application for a place to study please do so here)
You're not already qualified at masters level, or higher.
And
For Home students any one of the following:
You have been awarded/predicted a First Class undergraduate degree
You have been in care as a looked-after child for at least 13 weeks since the age of 14
You have a disability
You are a carer for an ill or disabled family member
You are from a low-income background evidenced by receipt of maintenance grant and/or a higher rate of maintenance loan during undergraduate studies
You are from a black and minority ethnic group
You have been recognized as a refugee or asylum seeker or been granted humanitarian protection status by the UK government, or are the partner or child of someone who has been granted refugee, asylum seeker or humanitarian protection status
For EU and International students the following:
You have been awarded/predicted a First Class undergraduate degree
Job/Position Description-
The University of Hull recognises that the provision of equal opportunity, valuing diversity and promoting a culture of inclusion is vital to our success. We know that when people come together with different views, approaches and insights it can lead to richer, more creative and innovative teaching and research and the highest level of student experience.
Depending on which criteria you meet, you may be asked to submit additional documents as supporting evidence.
This is a competitive bursary scheme, and eligibility does not guarantee an award.
The scholarship application is a separate process to applying for a course. Being awarded a scholarship does not guarantee you will be made an academic offer.
This award cannot be held in conjunction with any University of Hull scholarship or financial award other than the Graduate Scholarship.
The recipient will be required to write a thank you letter to the donor and may be asked to take part in promotional activities in relation to the bursary.
How to Apply-
To be successful, tell us in 250 words why the MSc Renewable Energy or MSc Flood Risk Management will benefit you and your aspirations in renewable energy or flood risk management in the future. You will also need to cite your MyAdmin MSc application number in your scholarship application.
Please send your application to eei@hull.ac.uk quoting 'VCC Scholarship in Renewable Energy / Flood Risk Management' in the subject line.
Last Date for Apply–
Closing date for Renewable Energy Candidates: 31 July 2021
Closing date for Flood Risk Management Candidates: 27 August 2021
More Opportnities:-
UWGSS Graduate Studies Scholarship at the University of Winnipeg, Canada
Amsterdam Merit Scholarship at Universiteit van Amsterdam, Netherlands
Bangchak Master Scholarships 2021 at Asian Institute of Technology (AIT) in Thailand
Postgraduate Research Scholarship at The University of Sydney, Australia