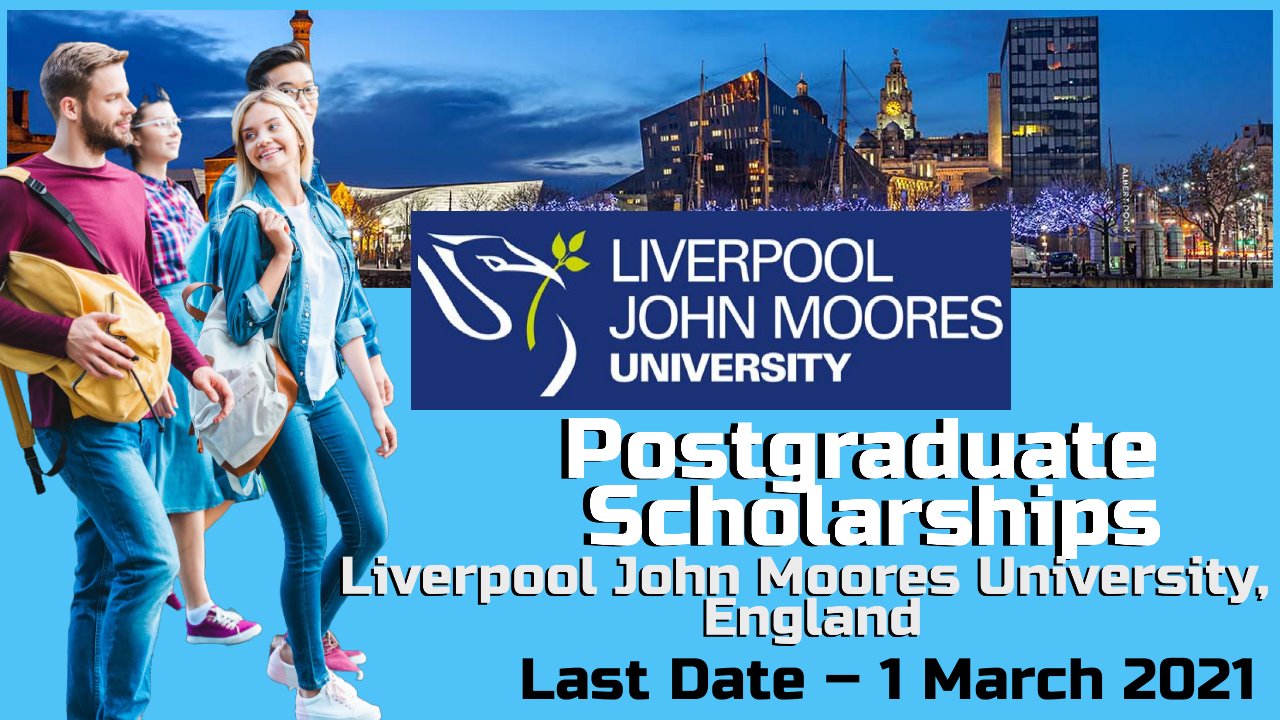 Designation/Position- Postgraduate Scholarships at Liverpool
Liverpool John Moores University invites application for Postgraduate Scholarships at Liverpool for eligible and interested candidates
About- LJMU offer scholarships to postgraduate students wishing to study with us from overseas. We do this in the form of tuition fee reductions and working alongside other external funding councils to produce many options for our students.
Research/Job Area- postgraduate
Location-England
Eligibility/Qualification–
In order to qualify for one of the below scholarships, you must first meet a set list of criteria. Awards will be granted upon candidates meeting all conditions along with the presentation of an outstanding application and supporting documentation. 
Competitive scholarships have a limited number of awards. Students will be notified on the progress of their application as soon as possible after application.
Students who are successfully awarded a Regional Scholarship are also eligible for the LJMU International Achievement Scholarship.
have an offer of study and have firmly accepted their place before they are eligible to apply for scholarship funding
not have already studied a postgraduate taught degree (unless applying for PhD study funding)
have the funds to cover the remaining living costs, travel and any other costs associated with studying at the University
Job/Position Description- 
LJMU are pleased to be able to offer £3,000 tuition fee discounts to eligible applicants without a separate application process. All achievement scholarships are awarded automatically to all who fit the essential criteria as stated below:
Successful candidates must: 
be self-funded
meet the conditions stated in their full-time, postgraduate taught course offer letter
not also have funding from other external sources such as government or employer sponsorship
study full time at Liverpool John Moores University

If you meet the above criteria, we will send an update of your scholarship status in the unconditional offer letter for your course. 
How to Apply- 
To be considered for the scholarship, candidates must be holding an offer of study at the University. In order to complete the application form, you will need to state your applicant ID number. This can be found on the top right hand side of your offer letter. Please state it accurately. 
To access the application form, please click here.
Should you have any questions before starting the application, please contact Rosalyn Harrison on r.harrison1@ljmu.ac.uk
Last Date for Apply– 1 March 2021 (12 pm GMT+1)
More Opportunities
Draper Hills Summer Program (DHSF) at Stanford University, USA