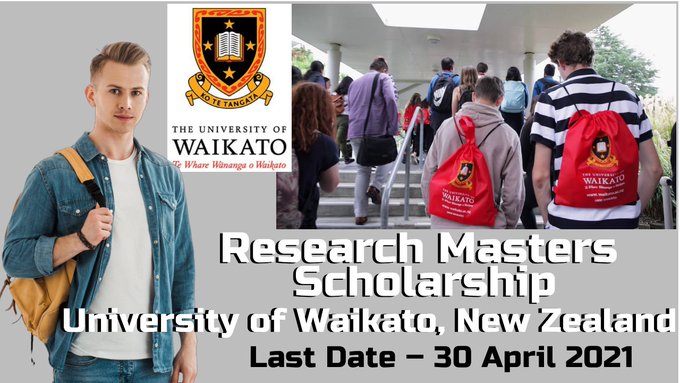 Designation/Position- Research Masters Scholarship
University of Waikato, New Zealand invites application for Research Masters Scholarship for eligible and interested candidates
About- The Tauranga Campus Research Masters Scholarship was established in 2018 to support students undertaking a master's thesis at the University of Waikato in Tauranga. These scholarships were made available through the generosity of Tauranga Energy Consumer Trust, Tauranga City Council and Bay of Plenty Regional Council. The funds are held in trust in the Foundation and one scholarship will be offered each year, with funds ending after three years. The University of Waikato is committed to supporting graduate research, and the motto ko te tangata is a core value that underpins this commitment. Of particular importance is the potential of the research to contribute to the growth of industry and the economy in the communities of the Bay of Plenty and Tauranga.
Study level- Postgraduate (Research)
Location- University of Waikato, New Zealand
Eligibility/Qualification–
To be eligible for consideration applicants must:
a) have applied to enroll, or be planning to enroll, full-time1 in a thesis of 90-points or more as part of their first master's degree at the University of Waikato and based
in Tauranga;
b) A minimum Grade Point Average (GPA) of A- is expected. Normally, GPA
calculations will be based on the equivalent of the applicant's last two years of
full-time study.
c) Applicants must have made contact with a potential University of Waikato
master's thesis supervisor; and
d) be a New Zealand citizen, permanent resident or an international student.
a. International students must have completed at least 120-points of study
at a New Zealand university in order to be eligible for this Scholarship.
Job/Position Description- 
Value: $23,000
Study Level: Postgraduate (Research)
Subject Area: Any
Closing Date: 30 Apr 2021
The Scholarship will have a value of $23,000 and will be paid towards the recipient's
tuition fees with the remainder of the Scholarship paid directly into the recipient's bank
account in three equal instalments:
The first instalment will be paid two weeks after enrolment in the thesis OR as soon as arrangements can be made after the awarding of the Scholarship
should the recipient have already completed more than two weeks of study.
The second instalment will be paid after four months of study.
The final instalment will be paid on submission of the thesis for marking
How to Apply- 
Follow the steps below to apply for scholarship and awards.  Applications are submitted through your MyWaikato portal.  This portal is your go-to for all details in regards to your scholarship applications and your enrolment.
Please note that the majority of scholarships applications are submitted through your MyWaikato portal however some may still be through our old application system.  Your application will be considered in the same way but the process for applying is slightly different.
For assistance with with preparing cover letters or CV's you may visit our University of Waikato Careers team.  They will be able to provide information and assistance.
Step 1 – Before you start applying
Step 2 – Submit an Application to Enrol
Step 3 – Select the Scholarships you wish to apply for
Step 4 – Completing a submission
Step 5 – After submission
Last Date for Apply– 30 April 2021
More Opportnities:-
UWGSS Graduate Studies Scholarship at the University of Winnipeg, Canada
Amsterdam Merit Scholarship at Universiteit van Amsterdam, Netherlands
Bangchak Master Scholarships 2021 at Asian Institute of Technology (AIT) in Thailand
Postgraduate Research Scholarship at The University of Sydney, Australia