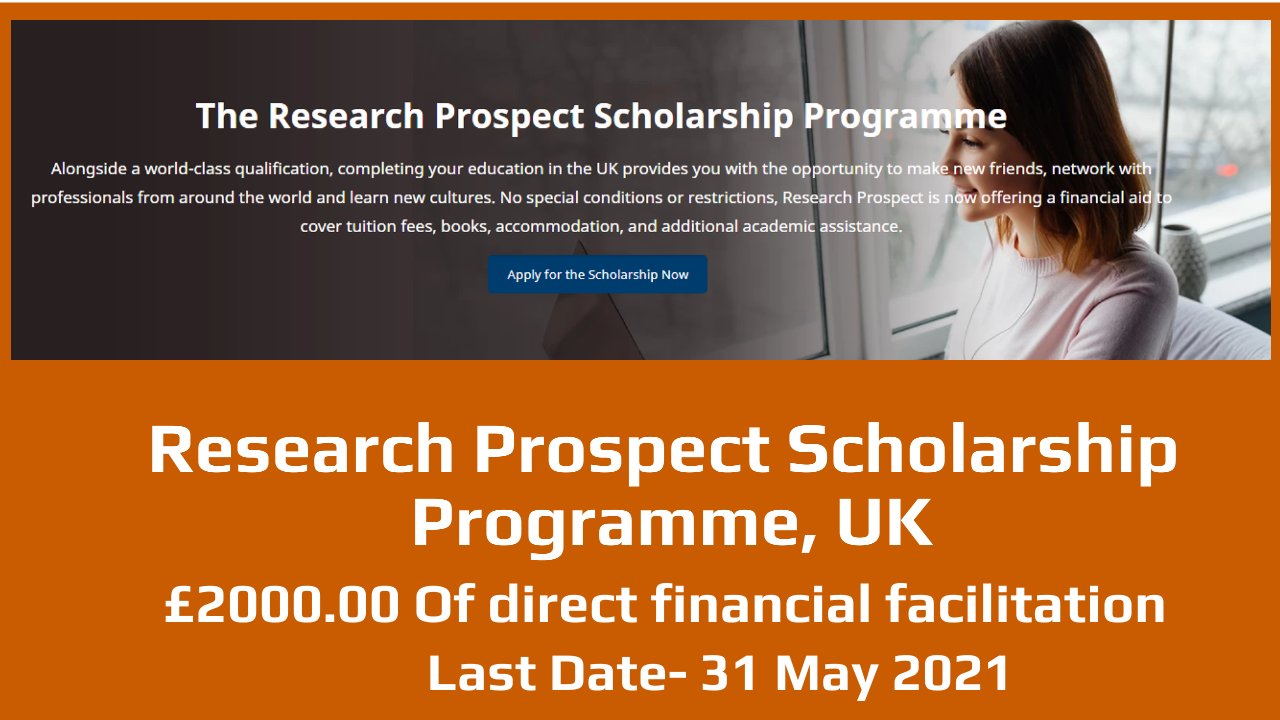 Designation/Position- Research Prospect Scholarship
Research Prospect London, England invites application for Research Prospect Scholarship (Fully Funded) for eligible and interested candidates
About- Research Prospect Scholarship gives credence to empowering and investing in students' thirst for knowledge, eager to succeed, passionate, and wholeheartedly dedicated to improving themselves. By serving students in their academics, we believe we are serving society because we are cognizant that a better society is made by working towards prosperity and growth. And sophisticated and efficient societies create a peaceful and better world.
Study level- Undergraduate or graduate program
Location- Research Prospect London, England
Eligibility/Qualification–
To apply for the Research Prospect Scholarship programme, you must fulfill the requirements and complete the following steps;
You must provide proof of acceptance or should be presently attending a credible college or university for a full-time undergraduate or graduate program in the UK.
You will need to be on the course or have a minimum of 2:1 or equivalent. 
You need to write a unique and genuine essay of 800 words on five frustrations and pain points in essay writing.
Post the essay on your personal blog and link it to the Research Prospect website. (If you do not have a blog yet, you can create one on Weebly, WordPress, Wix, or Medium. Without any charges.)
Your uploaded essay should be 100% plagiarism-free. You may use the information available through various sources but make sure to use your own words and cite the sources. (if any source of plagiarism is detected, your application will be dismantled from the selection)
Job/Position Description- 
Research Prospect has served countless students with their academic projects so they can improve their career prospects but unfortunately, a number of students could not avail of the services due to the lack of resources. So, we decided to come up with the Research Prospect scholarship programme, which aims to help dedicated and hardworking students who are struggling financially.
This program comforts students with £2000.00 Of direct financial facilitation which can be used for tuition fees, accommodation, or books. The reinforcement will be sent directly to Financial Aid department of the University.
How to Apply- 
To apply, simply email your application to info@researchprospect.com, including the following details:
Your full name
Your university and degree
Your grade (or equivalent)
A link to your essay blog post
Last Date for Apply– 31 May 2021
More Opportunities:-
Dean's International Research Scholarship, University of Sydney, Australia
Rosa-Luxemburg-Stiftung Awards at Rosa-Luxemburg-Stiftung, Germany
Jönköping University Scholarships at Jönköping University, Sweden
Woods Hole Internship at Woods Hole Oceanographic Institution, U.S.A.