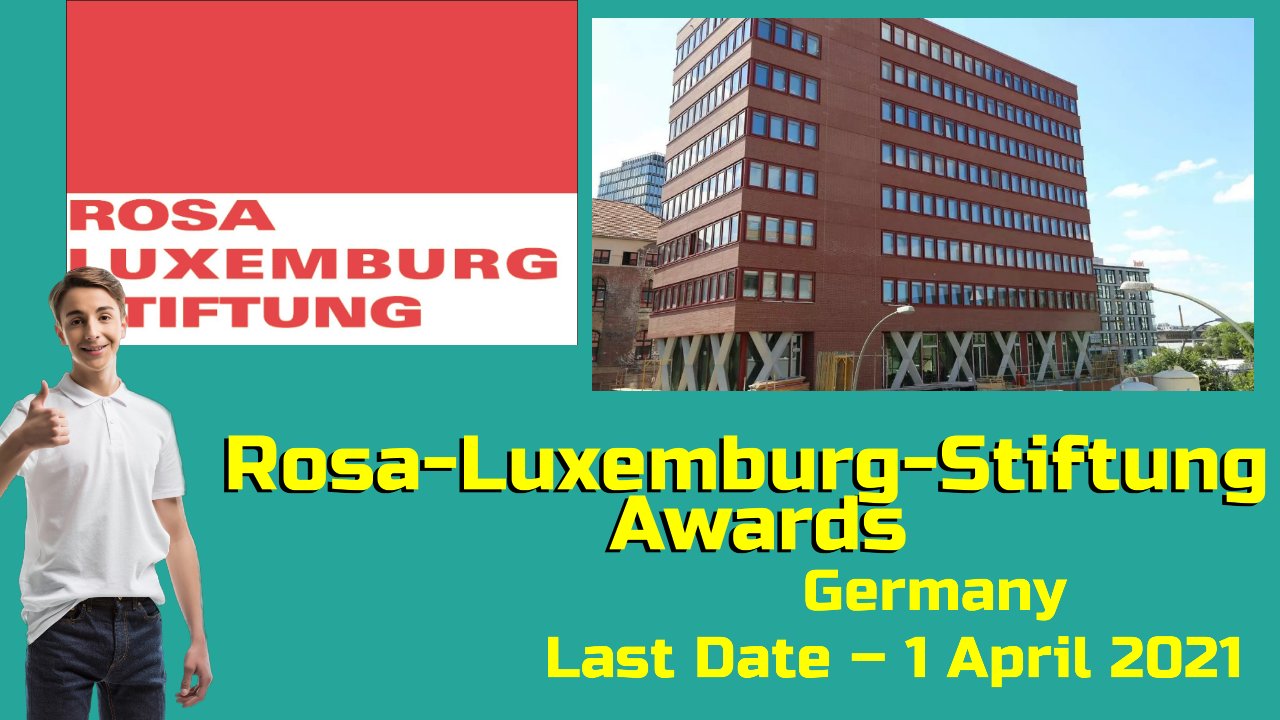 Designation/Position- Rosa-Luxemburg-Stiftung awards
Rosa-Luxemburg-Stiftung, Europe invites application for Rosa-Luxemburg-Stiftung awards for eligible and interested candidates
About- The Scholarship Department of the Rosa-Luxemburg-Stiftung awards financial grants to highly-qualified undergraduate and doctoral students from Germany and abroad who evidence high levels of social and political engagement. In granting scholarships, the Stiftung seeks to counteract the social, political and gender discrimination prevalent in our society, and therefore gives preference to applications from women, students of non-academic and migrant backgrounds, the socially needy, and people with disabilities who demonstrate comparable achievements and commitment. Applications from undergraduate and doctoral students from scientific and technical disciplines are actively encouraged, as well as from graduates of technical colleges.
Study level- undergraduate and doctoral students
Location- Rosa-Luxemburg-Stiftung, Europe
Eligibility/Qualification–
German language proficiency (B2 level or above)
MA Students must be enrolled at a state or state-recognized German university
PhD students must be accepted at a German university
The Scholarship Department also awards grants to foreign students (MA only) and PhD students who are temporarily residing in Germany for study or research purposes.
Job/Position Description-
The Rosa-Luxemburg-Stiftung's Scholarship Department offers scholarship holders a wide range of support, consisting of political education events and summer schools, workshops conducted both domestically as well as abroad, symposia and educational trips. It also organizes practical training in fields such as rhetoric, conflict management and other key skills, time management and self-management, bolstering academic qualifications, text and writing workshops, and specific seminars on methodology. Particular importance is given to scholarship holders' self-organization and their working groups. The work of the Scholarship Department is assisted by roughly 130 academic liaisons together with the staff and networks of the Rosa-Luxemburg-Stiftung.
How to Apply-
1 April
for grants beginning in the winter semester (1 October) of the same year
1 October
for grants beginning in the summer semester (1 April) of the next year
https://www.rosalux.de/en/foundation/studienwerk
Last Date for Apply– 1 April 2021
More Opportnities:-
UWGSS Graduate Studies Scholarship at the University of Winnipeg, Canada
Amsterdam Merit Scholarship at Universiteit van Amsterdam, Netherlands
Bangchak Master Scholarships 2021 at Asian Institute of Technology (AIT) in Thailand
Postgraduate Research Scholarship at The University of Sydney, Australia