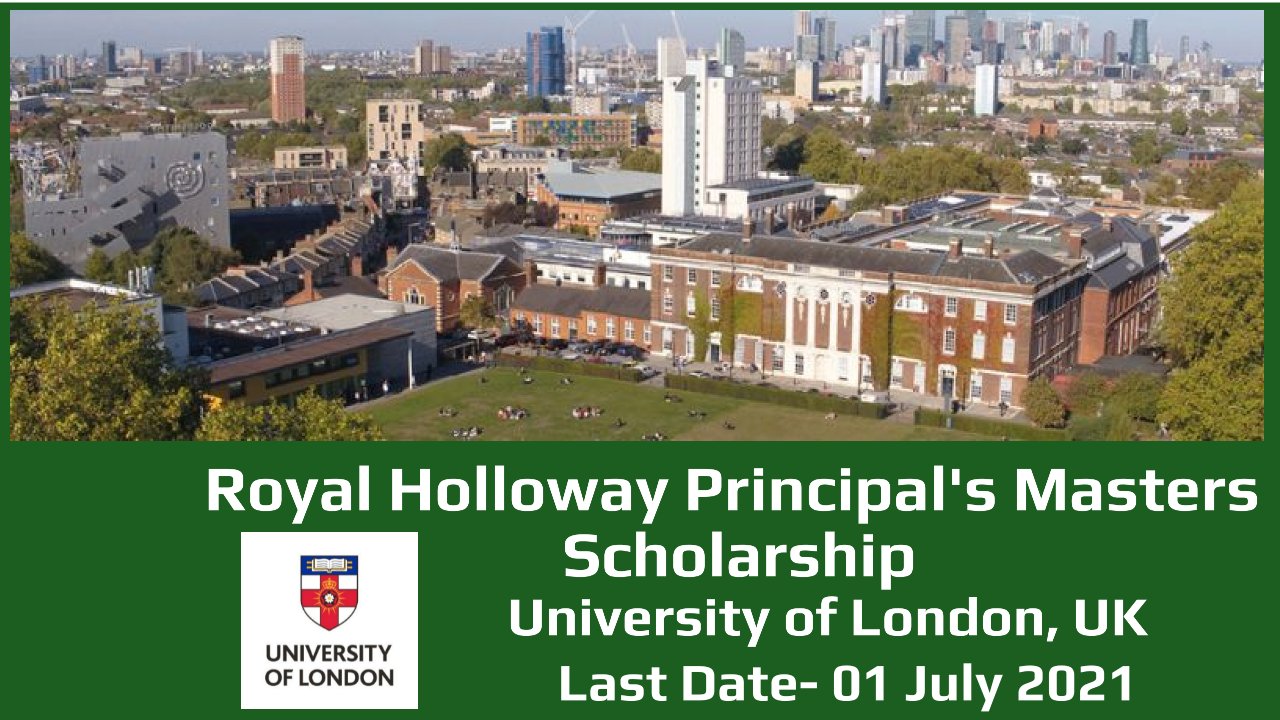 Designation/Position- Royal Holloway Principal's Masters Scholarship
Royal Holloway, University of London, England invites application for Royal Holloway Principal's Masters Scholarship for candidates
About- There are 60 scholarships available to new full-time and part-time students studying for taught Masters degrees in any subject. The scholarship is offered as a £4,000 tuition fee reduction. Royal Holloway, University of London, England invites application for Royal Holloway Principal's Masters Scholarship for eligible and interested candidates
Study level- Master's Degree
Location- Royal Holloway, University of London, England
Eligibility/Qualification–
You must have received an offer to study a taught postgraduate degree at Royal Holloway.
Applications to the Royal Holloway Principal's Masters Scholarships are assessed on academic performance to date.
Candidates with international fee status should have achieved, or be expected to achieve, at least a 2:1 undergraduate degree or equivalent, with preference given to those who have achieved a First Class degree (in countries where it is possible).
Candidates with home fee status should have achieved, or be expected to achieve, a First Class undergraduate degree or equivalent.
Job/Position Description- 
You must provide a supporting statement of no more than 400 words, which should include: 
Academic achievements you are particularly proud of and why these really matter to you 
Why you have chosen to do the degree you have applied for 
What your future aspirations are and how the scholarship will help you to achieve your future goals 
Your statement will be judged on how effectively and convincingly you respond to the above. 
As well as your statement, you will need to upload your most recent grades transcript from your undergraduate degree. Terms and conditions
Where an award is made to applicants on a two-year Masters course, no additional payment or tuition fee remission is offered in the second year of a two-year Masters degree.
£4,000 will be spilt and awarded in the first two years for part-time students.
If you are a Royal Holloway graduate, you cannot hold the Principal's Masters Scholarship in conjunction with the alumni discount. 
Read our full terms and conditions.
How to Apply- 
You must apply via our online system Royal Holloway Direct, where you will be able to complete your statement and upload any required documents including your grades transcript.
The deadline for applications is 1 July 2021.
Last Date for Apply– 1 July 2021
More Opportunities:-
Dean's International Research Scholarship, University of Sydney, Australia
Rosa-Luxemburg-Stiftung Awards at Rosa-Luxemburg-Stiftung, Germany
Jönköping University Scholarships at Jönköping University, Sweden
Woods Hole Internship at Woods Hole Oceanographic Institution, U.S.A.