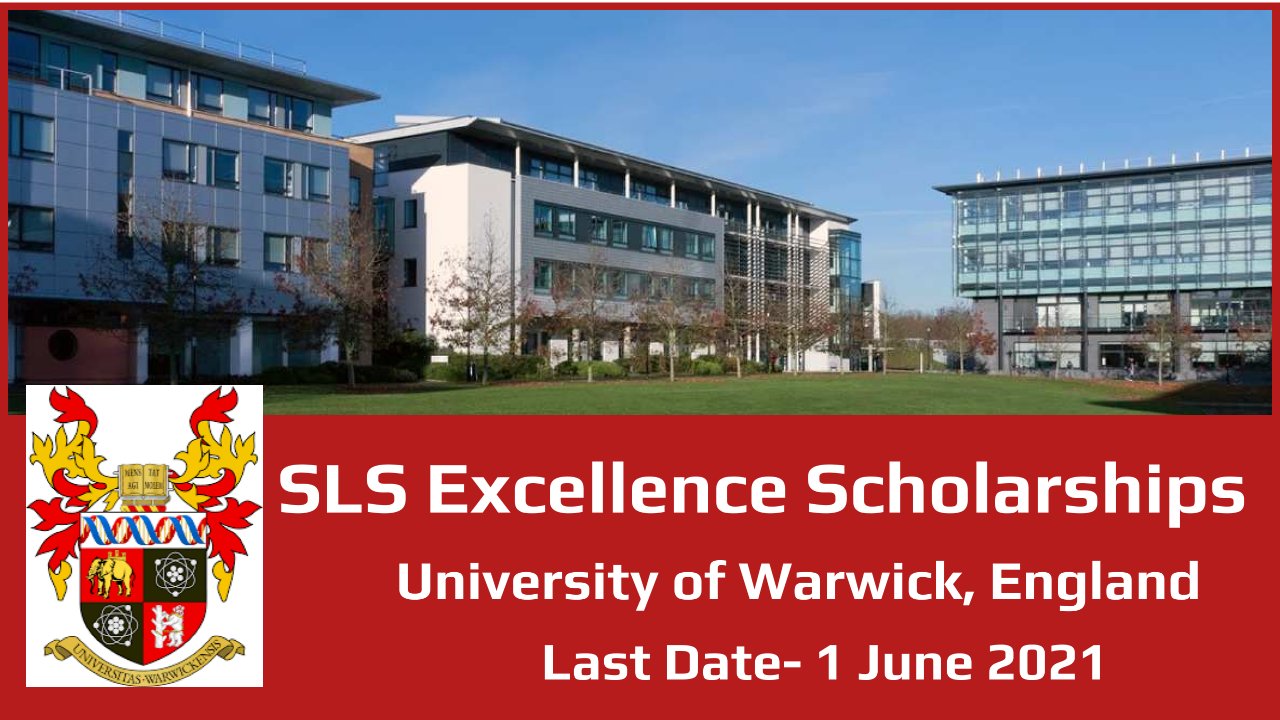 Designation/Position- SLS Excellence Scholarships
University of Warwick, England invites application for SLS Excellence Scholarships (Fully Funded) for eligible and interested candidates
About- SLS Excellence Scholarships are competitive and awards will be based on past academic achievement and experience, your motivation for study, extracurricular activities and your vision for the future.
Study level- MSc course
Location- University of Warwick, England
Eligibility/Qualification–
Before applying, applicants should have an offer to study on a School of Life Sciences full-time taught MSc course starting October 2021.
Applicants should have an excellent academic track-record, typically the equivalent of a British 1st Class Honours Degree. The Scholarship Review Panel will assess both academic achievement and the supporting statement when awarding.
For conditional offer-holders, scholarship awards will also be conditional on achieving any language requirements and the awardee's final predicted grade.
SLS Excellence Scholarships are for self-funded students only. Students with other partial funding may be considered. Recipients should inform Dr Charlotte Moonan (Charlotte.Moonan@warwick.ac.uk) if they are in receipt of another scholarship or are later awarded other funding.
Applications for Scholarships are welcome from home, EU and international students.
SLS Excellence Scholarships are paid towards tuition fees only.
Scholarships will be awarded across all Life Sciences full-time taught MSc Programmes to maximise nationality and gender diversity.
Scholarship recipients will be asked to carry out some ambassadorial duties for the School.
Job/Position Description- 
Up to two School of Life Sciences Excellence Scholarships will be awarded as a 50% reduction of course fees for the 2021/22 academic year.
How to Apply- 
Students must complete a Scholarship Application in order to be considered for an SLS Excellence Scholarship.
Applications will be considered on two occasions. The two deadlines are 8 February 2021 and 1 June 2021.
Last Date for Apply– 1 June 2021
More Opportunities:-
High Potential Students Grant by RWTH Aachen University, Germany
Global Graduate Scholarship by University of Michigan Flint, United States
AIAS Foundation Scholarships by Academy Foundation's, Los Angeles, USA
IOE-ISH Taught Master's Scholarships, University College London, England