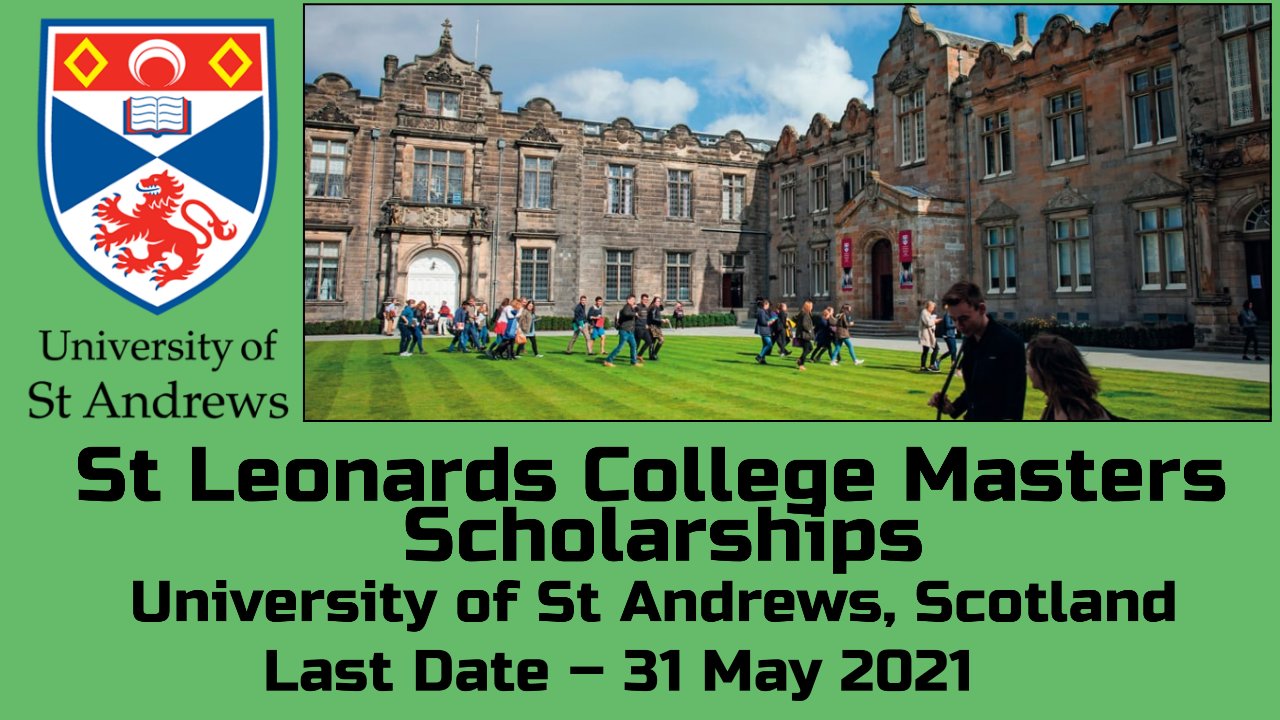 Designation/Position- St Leonards College Masters Scholarships
The University of St Andrews, Scotland invites application for St Leonards College Masters Scholarships for eligible candidates
About- The Saints Sport – St Leonards College Masters Scholarships are open to international applicants for eligible postgraduate Masters degree programmes.
We welcome applications from talented student athletes looking to extend their playing career, whilst continuing their studies. There are no eligibility restrictions on playing sport and representing the University whilst studying for a postgraduate qualification at St Andrew
Study level- MSc, MLitt, MRes
Location- The University of St Andrews, Scotland
Eligibility/Qualification–
Geographical criteria- International
Domicile for fee status- International
Level of study- One year taught postgraduate programmes – MSc, MLitt, MRes
Scholarships are not available for Masters degrees by research, doctoral degrees, postgraduate certificates/ diplomas, or distance learning programmes
Year of entry -2021
Additional criteria
Applicants must meet the entry requirements for their programme.
Applicants should be competing at a high level within their sport – usually national or international standard – see the Saints Sport website.
Job/Position Description- 
Duration of award- 1 year
Value of award (per year)- Scholarships cover the difference between the applicable international fee rate and the UK fee rate.
Tuition or maintenance award?- Tuition fee reduction
Number of awards available- Up to 20
How to Apply- 
This scholarship is available for application through the Scholarships and Funding catalogue.
If you have applied to a Postgraduate Taught course beginning in the 2021-2022 academic year, you can access Scholarships and Funding through My Application after you have applied for a Postgraduate Taught programme. You should wait until the next working day after submission before attempting to access My Application.
If you are a current final year undergraduate student at St Andrews, you can access Scholarships and Funding through MySaint. However, you should wait until after you have applied for a Postgraduate Taught programme before doing so, to ensure that the scholarship application is associated with your prospective course.
Last Date for Apply– 31 May 2021
More Opportnities:-
UWGSS Graduate Studies Scholarship at the University of Winnipeg, Canada
Amsterdam Merit Scholarship at Universiteit van Amsterdam, Netherlands
Bangchak Master Scholarships 2021 at Asian Institute of Technology (AIT) in Thailand
Postgraduate Research Scholarship at The University of Sydney, Australia