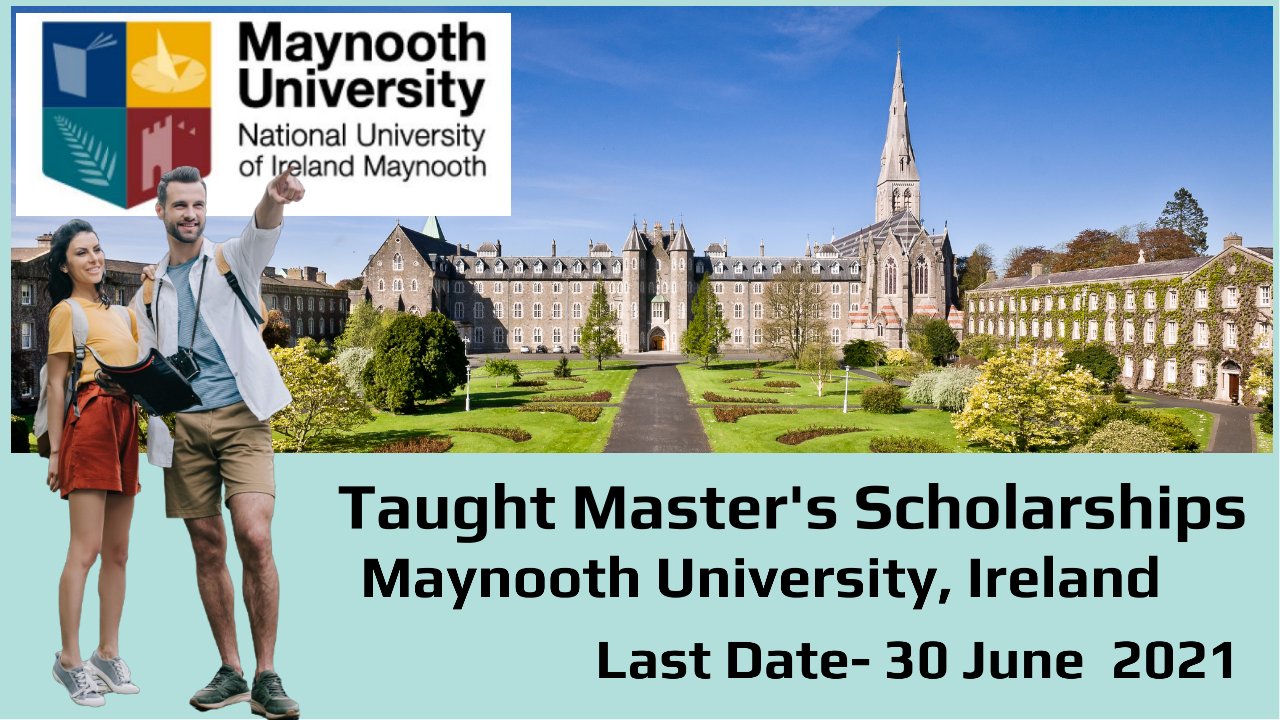 Designation/Position- Taught Master's Scholarships
Maynooth University, Ireland invites application for Taught Master's Scholarships (Fully Funded) for eligible and interested candidates
About- The Taught Master's Scholarships will be awarded to the most highly qualified applicants, separately ranked in each department or institute, based upon the highest overall results in final year examinations. Applicants must demonstrate that they have achieved an overall minimum 2.1 final result in their undergraduate honours degree. The results of examinations taken after 1st July 2021 will not be considered.
The Graduate Studies Office will check the eligibility of the applicants and rank them for each department or institute according to the academic achievement of the applicant.
Study level- Master's Degree
Location- Maynooth University, Ireland
Eligibility/Qualification–
Applicants must intend to pursue a full-time taught master's degree at the university commencing in the academic year 2021-22 and meet the following eligibility criteria:
• Satisfy the entry requirements of the Maynooth University taught master's programme
they intend to undertake in 2021-22 and have applied on https://v2.pac.ie/institute/2
• All applicants must have achieved a minimum 2.1 honours undergraduate degree (NFQ
Level 8) in order to be considered for a Taught Master's Scholarship. Results from Level 8
Higher Diplomas are not eligible.
• Applicants who are not graduates/alumni of Maynooth University will be required to upload their final honours undergraduate degree transcripts for their Level 8 degree to PAC.ie as part of the standard PAC.ie application process for a Taught Master's programme at Maynooth University by the 1 July 2021.
• Only students who have applied for a full-time taught master's programme at Maynooth
University by the scholarship closing date are considered eligible for the scholarship.
• Applicants must have received a firm or conditional offer of a place on their chosen
programme by 26 July 2021 in order for their scholarship application to be assessed.
• Applicants who have been in receipt of a student grant for the final year of their
undergraduate studies will be asked to submit evidence outlining their undergraduate grant award as this will be taken into consideration where two applicants are equally ranked on final year undergraduate grades.
• The Maynooth University Access Office funds a €2,000 scholarship opportunity for current undergraduate final year students. Please indicate in the relevant section of the online application form if you wish to be considered for this scholarship opportunity. The top ranked eligible applicant will receive the Maynooth University Access Office scholarship and all remaining eligible applicants will be considered automatically for the Maynooth University Taught MastersScholarships.
Job/Position Description- 
Value of the Scholarship
The total value of the scholarship for each student is €2,000.
Allocation of Scholarship- The scholarship may be awarded for study on a full-time Taught Master's programme at any of the Maynooth University academic departments orresearch institutes, and a specific number of awards are available in each of these. Where there are insufficient eligible applicants within a particular Department, the Graduate Studies Office will reallocate the scholarships among remaining applicants within the Faculty. These remaining applicants will be ranked by highest undergraduate
How to Apply- 
Apply online in conjunction with your application for your chosen postgraduate programme: https://v2.pac.ie/institute/2
All applicants to full-time taught master's programmes through Maynooth University's PAC platform will automatically be offered the opportunity to apply for a taught master's scholarship during the application process. You may be asked to provide supplementary information or documentation with respect to SUSI grants or other financial supports received during undergraduate study, where this is relevant to your
scholarship application. Any supplementary documentation must be submitted by 7 July 2021. Failure to submit any documentation requested will result in the application being excluded from assessment. Prospective students who submitted their application to a full time master's programme prior to 9 March 2021 will be contacted by the Graduate Studies Office by 30 March 2021 to update their application and apply for a scholarship if they wish. It is the applicant's responsibility to update their application and apply for the scholarship before 30 June 2021.
For further information or assistance, please contact the Graduate Studies Office:
tmscholarships@mu.ie .
Last Date for Apply– 30 June 2021
More Opportunities:-
Dean's International Research Scholarship, University of Sydney, Australia
Rosa-Luxemburg-Stiftung Awards at Rosa-Luxemburg-Stiftung, Germany
Jönköping University Scholarships at Jönköping University, Sweden
Woods Hole Internship at Woods Hole Oceanographic Institution, U.S.A.