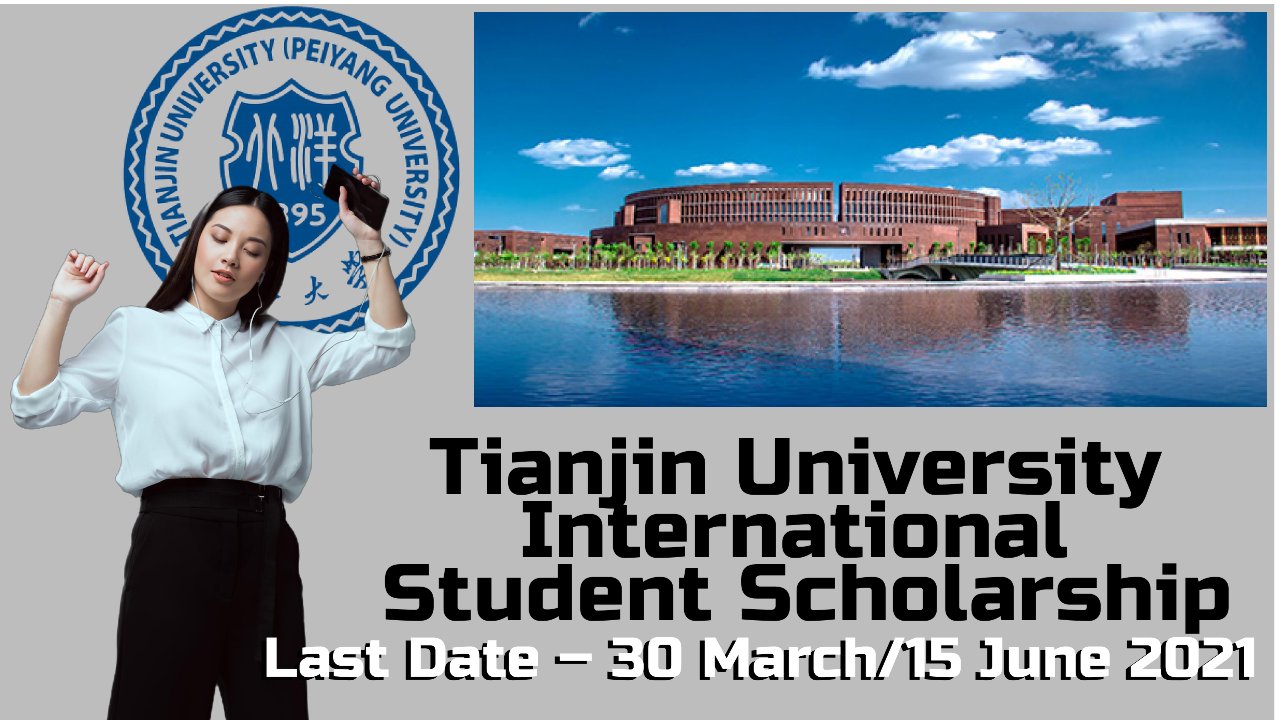 Designation/Position- Tianjin University International Student Scholarship
Tianjin University, China invites application for Tianjin University International Student Scholarship for eligible and interested candidates
About- Tianjin University, China invites application for Tianjin University International Student Scholarship for eligible and interested candidates
Study level- Master's Degree
Location- Tianjin University, China 
Eligibility/Qualification–
1. Applicants shall be non-Chinese citizens with a valid passport, and the conditions set by the Document No. 12 (2020) of Ministry of Education of the PRC should be met.
2. Applicant should hold a high school diploma and be under the age of 30. Applicants who are still under the age of 18 as of September 1st, 2021 must submit the original guardian certificate issued by the Tianjin District Notary Office, and the Guardian must be a permanent resident of Tianjin.
3. Language Proficiency Requirements:Chinese-taught programs applicants need to submit HSK certificates. A minimum requirement of HSK4 (Score 195 or above) for Engineering/Science or HSK5 (Score 180 or above) for business/liberal arts is needed. (HSK results are not compulsory for applicants whose mother tongue is Chinese or have gone through their high school education where the medium of instruction was in Chinese.)English-taught programs applicants need to submit English proficiency certificate (English native speakers are exempted). TOEFL: no less than 80, IELTS: no less than 6.0.
4. Applicants have good conduct, good physical and mental health, and be willing to abide by the laws and regulations of China and Tianjin university. 
Job/Position Description- 
(1) Application Fee: RMB 420.
(2) Tuition Fees of Undergraduate Programs: Please refer to Online Application (tju.at0086.cn/student)
(3) Accidental Injury and Hospitalization Insurance: RMB 800/year
(4) Accommodation on Weijin Road campus: RMB 60/day per person for single room, RMB 50/day per person for twin room. Accommodation on Peiyang Park campus: RMB 40/day per person for single room. 
How to Apply- 
Applicants should complete an Online Application on our website(tju.at0086.cn/student)according to the application schedule. Applicants should fill in the application information online and upload the application documents listed below to the Online Application System.Applicants are also required to fill in and sign the relevant application form before uploading a scanned copy of the document onto the "Others" section of the online application platform. Click here to download the Tianjin University Qiushi Scholarship Application Form
Last Date for Apply– 
1st Round: Dec 30th,2020-Mar 30th,2021 Admission results will be announced in early April 2021.
2nd Round: Feb 15th,2021-Jun 15th,2021 Admission results will be announced in early July 2021. The application system will still be available during the winter break. Due to the limited quota of each school, early application is strongly advised.
More Opportnities:-
UWGSS Graduate Studies Scholarship at the University of Winnipeg, Canada
Amsterdam Merit Scholarship at Universiteit van Amsterdam, Netherlands
Bangchak Master Scholarships 2021 at Asian Institute of Technology (AIT) in Thailand
Postgraduate Research Scholarship at The University of Sydney, Australia