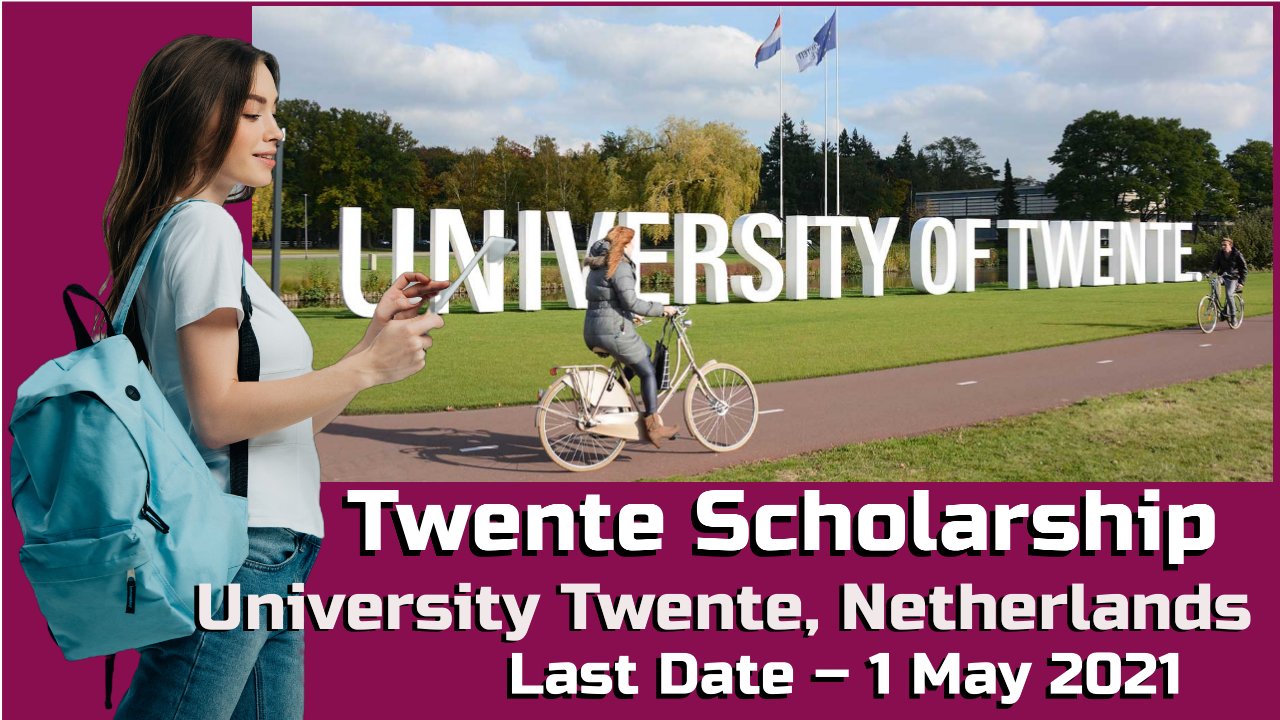 Designation/Position- Twente Scholarship
The University Twente, Netherlands invites application for University Twente Scholarship for eligible and interested candidates
About- The University Twente Scholarship powered by ICD is a scholarship for excellent students from both EU/EEA as well as non-EU/EEA countries, applying for a Master of Science in Electrical Engineering at the University of Twente with specialization in Integrated CircuiDesign at the University of Twente
Become one of the most promising UT students.
Exclusive opportunity to take part in an intake for one of the three honours programmes: Research honours, Design honours, or Change leaders
Study level- graduate programme
Location- The University Twente, Netherlands
Eligibility/Qualification–
You must have obtained:
Application for an ICD scholarship is a procedure separate from the application for course entry at the University of Twente. Regardless of funding, you will need to gain an academic acceptance/admission letter first;
You have been (provisionally) admitted to one of the qualifying UT MSc Electrical Engineering, specialization for analogue or radio frequency circuit design, starting in September. Please note: After completion of your scholarship application, it may take up to 8 weeks before you receive the results;
You must have a student number;
You have not graduated from a UT graduate programme before;
You comply with the conditions for obtaining an entry visa in the Netherlands (if applicable);
You comply with the general English language test requirement Academic IELTS 6.5 (or TOEFL iBT of 90) and an additional 6.0 (TOEFL iBT 20) on the sub score of speaking skills;
The UTS-ICD scholarship is available for EER/NON EER citizens;
Especially, excellent female candidates from Southern Europe (Portugal, Spain, Italy or Greece) may apply.
The candidate must not be employed as full commitment to the programme is required;
The candidate must have an official passport, valid up to and including the overall grant/study period;
The candidate must not be nominated for other UT funding programmes, or Dutch governmental programmes;
You are not eligible for a Dutch study loan;
The University Twente Scholarship is a scholarship for excellent students. Typically this means that you belong to the best 5 to 10 percent of your class;
For UTS the student should obtain 50% ECTS or higher than 7 (out of 10) to be eligible for an UTS allocation for the second year. For UTS ICD this requirement is an average grade of 8 (out of 10) or above during assessment or at the end of the third quartile of the first academic year. In case of insufficient average, the faculty may withdraw the sponsorship. In any case your study progress will be assessed on a case by case basis;
Willingness to work for a company in Twente for at least 3 years after graduation (gentlemen's agreement);
The age of the UTS-ICD candidate must not exceed 35 years of age at the time of application.
The candidate should have a strong preference for analogue or radio frequency circuit design.
Please note: The UTS is not available for Dutch and/or current UT students.  
Job/Position Description- 
Please note: This scholarship is meant as a compensation for study related costs. It is up to the scholarship student to decide how to spend the money. No costs (e.g. tuition fees) will be paid on your behalf.
How to Apply- 
https://www.utwente.nl/en/education/scholarship-finder/application-forms/preapl-uts/
Last Date for Apply– 1 May 2021
More Opportnities:-
UWGSS Graduate Studies Scholarship at the University of Winnipeg, Canada
Amsterdam Merit Scholarship at Universiteit van Amsterdam, Netherlands
Bangchak Master Scholarships 2021 at Asian Institute of Technology (AIT) in Thailand
Postgraduate Research Scholarship at The University of Sydney, Australia