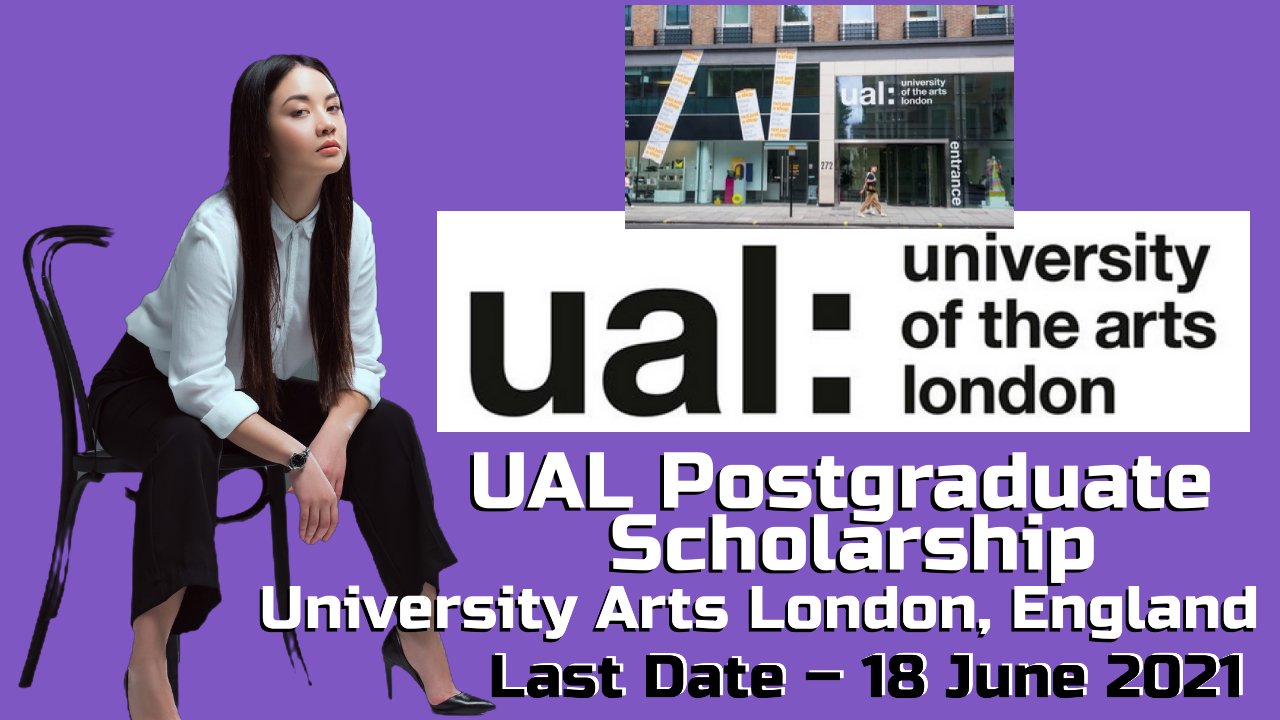 Designation/Position- UAL Postgraduate Scholarship
University Arts London, England invites application for UAL Postgraduate Scholarship for eligible and interested candidates
About- UAL offers a wide range of UAL Postgraduate Scholarship, bursaries and awards provided through generous donations from individuals, companies and philanthropic charities, as well as from University funds.
Study level- Grad Dip, M ARCH, MA, MBA, MFA, MRes or MSc qualification
Location- University Arts London, England
Eligibility/Qualification–
Criteria 1: You must hold an offer to study a full-time or part-time taught master's course at one of UAL's 6 Colleges starting in 2021/22.
Your course must offer either a Grad Dip, M ARCH, MA, MBA, MFA, MRes or MSc qualification.
You are not eligible to apply if you already hold a UK postgraduate taught qualification (or one at an equivalent level) from studies undertaken in the UK or abroad.
Criteria 2: You need to qualify for the Overseas category of tuition fee status. Read more about Postgraduate Tuition Fees.
Criteria 3: You have achieved, or are predicted to achieve, an upper second-class honours degree or above at undergraduate level. Recognised equivalent qualifications are also accepted. Please refer to NARIC to check your degree.
You will need to provide your transcripts as proof of your qualification.
If you have not yet received your results, you will need to provide evidence of your predicted grade as part of your application. When you receive your results, you will need to provide further evidence that you have achieved your predicted grade to be granted the award.
Criteria 4: You must provide a personal statement as part of your scholarship application which responds to the following questions (maximum 350 words per question):
Describe your background and your academic experience.
Describe how receiving a postgraduate scholarship would make a difference to you.
Tell us how you intend to use the qualification you will be gaining to support your future plans.
Confirm any other sources of funding you have, or have applied for, to meet the cost of your studies in the UK.
Criteria 5: You are able to support your application with a satisfactory personal reference from an academic or professional referee. Your reference must be provided in English.
Job/Position Description- 
This scholarship provides a £5,000 tuition fee waiver for a full-time or part-time taught master's course at one of UAL's 6 Colleges. Up to 165 UAL International Postgraduate £5,000 Scholarships are available. Applications open in late February.
How to Apply- 
Once you've received an offer to study at UAL, the 'my funding' page on your applicant portal will be updated to include application forms for scholarships you may be eligible for.
If you submit a scholarship application, we will email you after the deadline has passed to let you know if you have been successful.
Last Date for Apply–  
For courses starting in September/October 2021: Friday 18 June 2021
For courses starting in January 2022: Friday 15 October 2021
More Opportnities:-
UWGSS Graduate Studies Scholarship at the University of Winnipeg, Canada
Amsterdam Merit Scholarship at Universiteit van Amsterdam, Netherlands
Bangchak Master Scholarships 2021 at Asian Institute of Technology (AIT) in Thailand
Postgraduate Research Scholarship at The University of Sydney, Australia