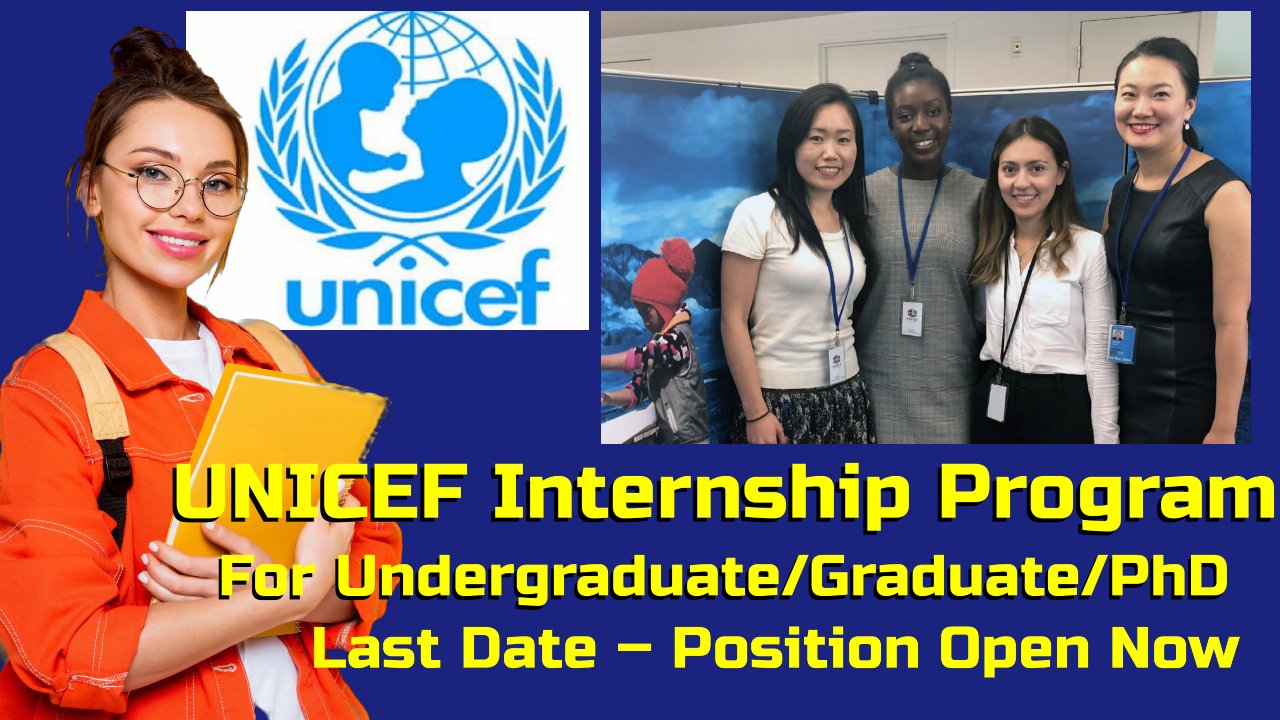 Designation/Position- UNICEF Internship Program
UNICEF, New York invites application for UNICEF Internship Program(graduate or PhD programme) for eligible and interested candidates
About- UNICEF works in 190 countries and territories to save children's lives, to defend their rights, and to help them fulfil their potential, from early childhood through adolescence. And we never give up. Career opportunities are diverse, challenging and exciting. UNICEF's most important resources – our highly skilled and incredibly dedicated people – are driven to deliver results for children and young people everywhere. With a commitment to gender equality, geographical diversity and inclusion, UNICEF selects staff who exhibit the highest standard of technical expertise, competence and purpose.  
Study level- graduate or PhD programme
Location- UNICEF, New York
Eligibility/Qualification–
To be considered for an internship, you must meet the following requirements:
Be enrolled in an undergraduate, graduate or PhD programme or have graduated within the past two years.
Be proficient in at least one of UNICEF's working languages: English, French or Spanish. Fluency in the working language of the office you are applying to, may also be required.
Have excellent academic performance as demonstrated by recent university/education records.
Have no immediate relatives (e.g. mother, father, sister, brother) working with UNICEF.
Have no other relatives in your reporting line of authority.
Be at least 18 years old.
Additional consideration will be given to any professional experience relevant to the function you're applying for.
Job/Position Description- 
The UNICEF Internship Programme offers students and recent graduates the opportunity to gain direct practical experience with UNICEF's work. Internship opportunities are available worldwide. Learn more about where we work
When a UNICEF office identifies the need for an intern to support their team, they publish the opportunity, and all eligible candidates can submit their application through our website. You can find current opportunities on our vacancies page.
All our interns are entitled to a stipend as a contribution towards living expenses, paid by UNICEF or a partner institution. A one-time lump sum, as a contribution towards travel and visa costs, may also be granted when funding is available.
How to Apply- 
Internship vacancies are advertised throughout the year on our vacancies page. Refer to the details of the specific vacancy for important dates such as the deadline for application and the duration of the internship.
Last Date for Apply– Position Open
More Opportnities:-
UWGSS Graduate Studies Scholarship at the University of Winnipeg, Canada
Amsterdam Merit Scholarship at Universiteit van Amsterdam, Netherlands
Bangchak Master Scholarships 2021 at Asian Institute of Technology (AIT) in Thailand
Postgraduate Research Scholarship at The University of Sydney, Australia