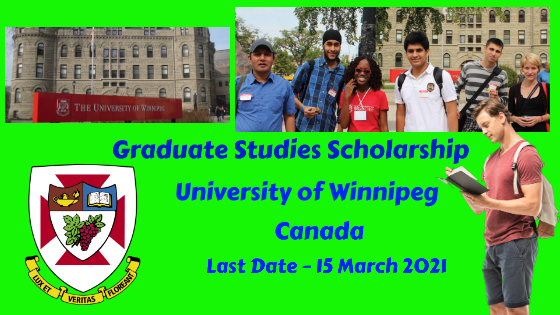 Designation/Position- UWGSS Graduate Studies Scholarship
The University of Winnipeg invites application for UWGSS Graduate Studies Scholarship for eligible and interested candidates
About- The University of Winnipeg is a dynamic campus and a downtown hub that connects people from diverse cultures and nurtures global citizens. UWGSS Graduate Studies Scholarship
We offer high-quality undergraduate and graduate programs including several that are unique in Western Canada: for example, a Bachelor of Arts in Human Rights, and a Master's degree in Development Practice with a focus on Indigenous Development. Our graduates value their educational experience, as UWinnipeg is known for small class sizes, academic excellence and commitment to Indigenous inclusion.
The Richardson College for the Environment & Science Complex accommodates over 2,000 students, faculty, staff and visitors daily. As one of the most innovative Science Complexes in Canada, our renowned professors, graduate and undergraduate students are researching and studying the most challenging issues we face: climate change, isotope productions and cancer tests, and pollutants in our air and lakes. Our state-of-the-art Axworthy Health and RecPlex offers new research and student practicum opportunities in kinesiology, education and applied health. The RecPlex offers sports and recreation programs for students, Wesmen athletes and the broader community.
Research/Job Area- Graduate Studies
Location- Canada
Eligibility/Qualification–
The offer of a UWGSS does not guarantee admission into a graduate program at the University of Winnipeg. Students are required to follow the departmental admission guidelines.
All students are eligible, regardless of citizenship.
All full-time graduate students in thesis, course-based, practicum-based, or project-based programs are eligible to apply, with the exception of students in the Theology, and Joint Masters Programs.
To qualify to apply to this program, the candidate must:
Have achieved a minimum GPA of 3.75 in the last 60 credits hours of study.
Be entering the first or second year of an eligible master's program as of May or September of the current year or January of the upcoming year.
Be enrolled a full-time master's program.
Notes:
Although students may be required to apply, students holding NSERC, SSHRC, CIHR, or PDGSS Awards are not eligible to hold this award.
Job/Position Description-
This award is based on academic excellence as well as community service. Any questions can be directed to Dylan Jones (d.jones@uwinnipeg.ca)
Value +The University of Winnipeg Graduate Student Scholarship (UWGSS) is valued at $15,000 for a period of 12 months. There are no automatic renewals for a second year.
How to Apply-
A completed application package includes the following:
A completed UWGSS Application Form.
2 references: One from your graduate program committee chair or graduate advisor/supervisor and one from an individual who can speak to your academic excellence and community engagement. References can use the UWGSS Appraisal Form or their own letterhead.
A Community Engagement and Academic Curriculum Vitae. This would include conference/paper presentations, funding history, relevant work/volunteer experience, etc.
Transcripts (UWinnipeg Transcripts can be unofficial copies)
Last Date for Apply– 15 March 2021
The University of Winnipeg Graduate Studies Scholarship application form should be submitted to the graduate studies office by no later than March 15 (or the next business day).
More Opportunities
Australian Government RTP Scholarship (International), University of Sydney
Felix Scholarships for Indian citizens at University of Reading, United Kingdom