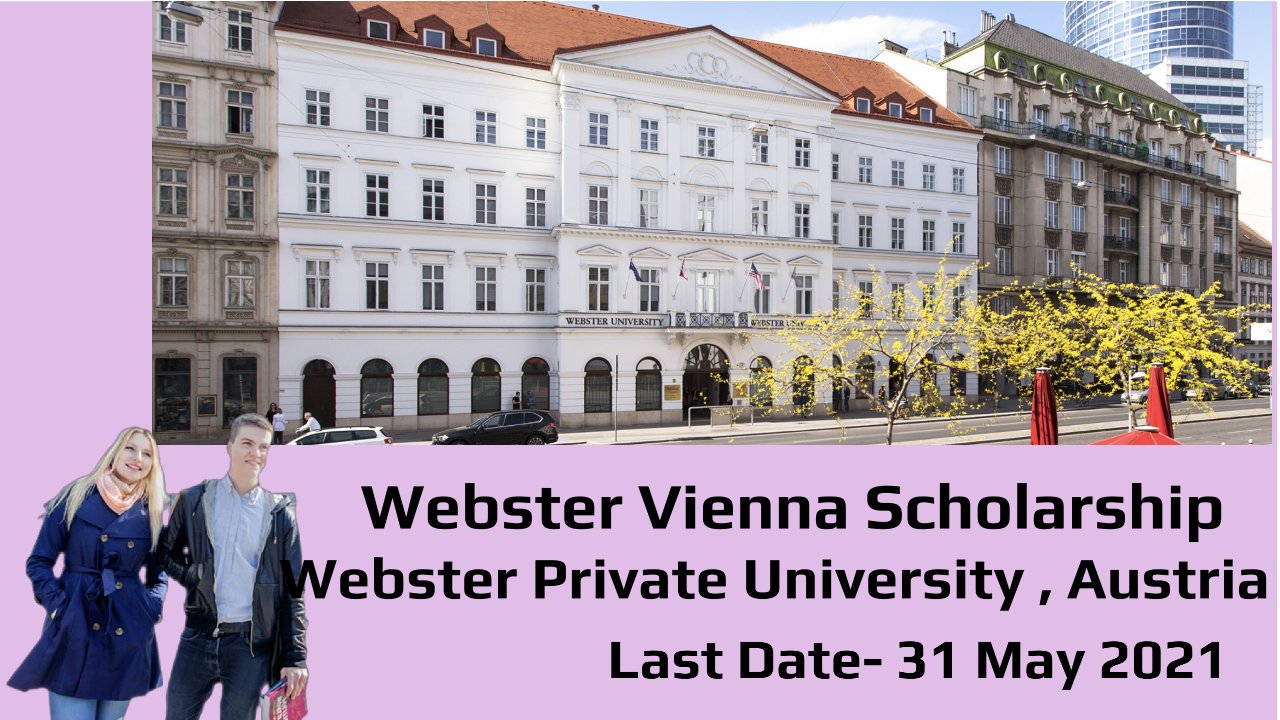 Designation/Position- Webster Vienna Scholarship
Webster Vienna Private University, Austria invites application for Webster Vienna Scholarship for eligible and interested candidates
About- At Webster Vienna, we know financial considerations are important when making academic-related decisions. That's why we're here to help assist our students—you—in securing a brighter future through student loans and scholarships.
Together, we'll help you achieve academic excellence by ensuring you have access to our available financial aid programs, the necessary eligibility requirement and an understanding of our application process.
Study level- Undergraduate (bachelor) and graduate (master) students
Location- Webster Private University , Austria
Eligibility/Qualification–
You will be asked to upload the following documents, which we recommend you to prepare before you start filling out the online application form:
Your acceptance letter, to prove that you have been accepted to a full degree program a
Financial motivation letter. This should be a document written by the applicant explaining his or her financial background, how the scholarship would help finance her/his education and why she or he deserves the scholarship.
Official financial documents (officially translated into English if not in English) such as salary slips, employer or pension confirmation of respective net earnings. All amounts must be stated iEURUR. If not, please convert the amounts intEURUR and indicate which rate was used. No bank account statements are accepted. In case of self-employment, please submit the company information and an official letter stating net earnings (iEURUR).
An original essay in English on one of the two topics provided below:
Many students at Webster Vienna Private University have cultural heritage, skill, or talent that defines them and enriches the lives of their peers. If you hold such an interest or have a unique background, please share more in a 1000-1200-word essay; or
Many believe that we learn from our mistakes. In a 1,000-1,200-word essay, describe a situation or experience where you learned from failure. Explain the situation, what actions you took, and how you learned from this experience.
Job/Position Description- 
We encourage all incoming undergraduate (bachelor) and graduate (master) students with exceptional academic achievement and proven financial need to apply for a Webster Vienna Private University Scholarship. Applicants must have a minimum grade point average (GPA) of 3.0 on the American 4-point scale and minimum of B2 proficiency in English.
Only accepted students (full-degree programs) may apply for scholarships. Please first apply to one of our Academic Programs through our Admissions Office. Once you are officially admitted, you can be considered for a scholarship.
Up to 10 new students may receive the WVPU Scholarships per year.
Starting from Fall 2021 we offer WVPU Scholarships on 3 different levels. The level-specific eligibility criteria and amounts awarded per academic year are:
How to Apply- 
For questions about the online application form and required documents, please email Scholarship@webster.ac.at.
Last Date for Apply– 31 May 2021
More Opportunities:-
Dean's International Research Scholarship, University of Sydney, Australia
Rosa-Luxemburg-Stiftung Awards at Rosa-Luxemburg-Stiftung, Germany
Jönköping University Scholarships at Jönköping University, Sweden
Woods Hole Internship at Woods Hole Oceanographic Institution, U.S.A.