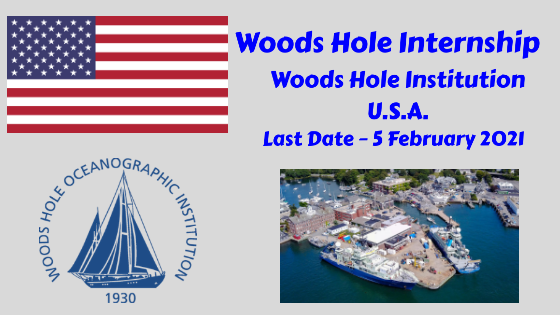 Designation/Position- Woods Hole Internship
Woods Hole Oceanographic, U.S.A. Institution invites application for Woods Hole Internship for eligible and interested candidates.
About- The application for summer 2021 is open! We hope for an in-person program, although the format will be determined by safety and health regulations due to COVID-19. We will offer a remote or hybrid program if needed. In 2020, our entire program continued in a virtual format. Read about some student experiences in the virtual program here.
Research/Job Area- Any of the fields of science or engineering
Location– Woods Hole Oceanographic Institution, U.S.A.
Eligibility/QualificationU–
Summer Student Fellowships are awarded to undergraduate students who are completing their junior year at colleges or universities and are studying in any of the fields of science or engineering including but not limited to the fields of biology, chemistry, engineering, geology, geophysics, mathematics, meteorology, physics, oceanography, and marine policy.
Students must have at least a tentative interest in the ocean sciences, oceanographic engineering, or marine policy.
Members of groups underrepresented in ocean science and engineering are encouraged to apply.
WHOI actively recruits underrepresented minorities in ocean science as defined by the National Science Foundation (African-, Hispanic- and Native-Americans and Pacific Islanders) in all of our education programs, as well as programs of the Woods Hole Diversity Initiative, such as the Woods Hole Partnership Education Program.
More information can be obtained by contacting: education@whoi.edu.
Job/Position Description-
A current CV or resume that shows the educational background and work experience
A current unofficial transcript, a PDF document. (Note: An Official Transcript will be required from any applicant who receives a Summer Student Fellowship.)
At least two letters of recommendation from professors or others familiar with the applicant's academic credentials (References will not be contacted automatically, please send them to the References page.)
A completed Course Record worksheet (within the application) listed undergraduate coursework by subject category, a primary textbook used for each course, and the grade received to complete the course.
A research statement, no longer than three double-spaced, typewritten pages, addresses the following five questions: How would a summer of research at WHOI benefit your education and career plans? What skills do you expect to obtain from this research experience? What qualities and characteristics will you bring to our program due to your work/activities/other life experiences? Have you previously been involved in research projects as part of your classwork, a job, or an internship? If so, what did you gain from this experience? What areas of marine research are you interested in and why? You may refer to a specific lab at WHOI or a general area; see WHOI Departments and WHOI Areas of Research.
And please include anything else you would like our selection committee to know about you that hasn't already been covered.
How to Apply-
You may access an application form by using the link on the right.
Once you have submitted an on-line application, use the 'Application Status Login' link to submit any remaining application materials, or to monitor the status of your application.
Please Note: Applicants must direct their reference writers to the References page on this website.
References listed on a student's application will not be automatically contacted by the application server.» View the References page
Questions can be directed to:Email: education@whoi.edu
Last Date for Apply– 5 February 2021
More opportunities –
Postgraduate Research Scholarship at The University of Sydney, Australia
Excellence Scholarship at Leiden University, The Netherlands
Australian Government RTP Scholarship (International), University of Sydney
Felix Scholarships for Indian citizens at University of Reading, United Kingdom