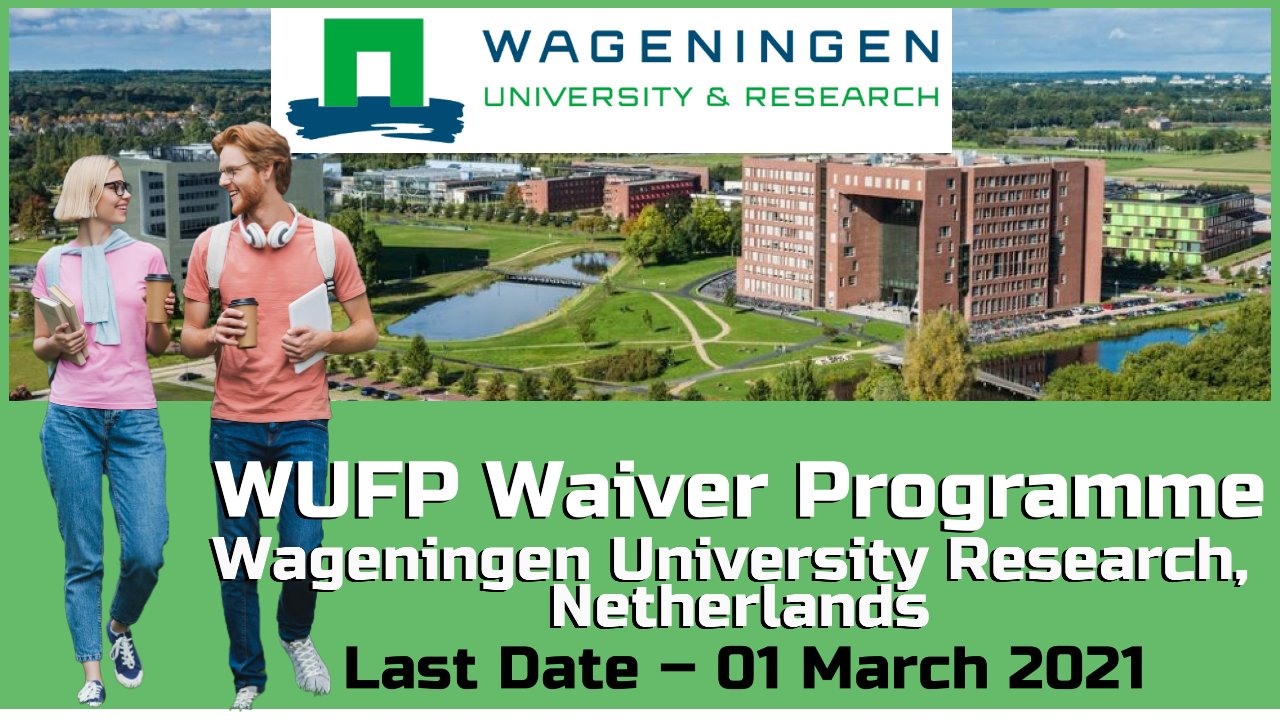 Designation/Position- WUFP Waiver Programme
Wageningen University & Research, Netherlands invites application for WUFP Waiver Programme for eligible and interested candidates
About- With a scholarship, you can cover (a part of) the costs of studying at Wageningen University & Research. Before applying or being invited for a scholarship, you need to be admitted to one of our Master's programmes. Also, you need to contact possible scholarship sponsors at a very early stage. With the WUFP Waiver Programme, Wageningen University & Research aims to attract talented international students from non-EEA countries by offering them financial support by means of waiving some or all of the tuition fees.
Study level- Master's Degree
Location- Wageningen University & Research, Netherlands
Eligibility/Qualification–
Students with any nationality from any part of the world are eligible to apply.
 If you want to qualify for a scholarship you need to be admitted to a Master's programme of Wageningen University & Research
Selected students from developing countries in Africa, Latin America or Asia and/or from one of the priority countries: Russia, Turkey, Canada, United States, Brazil, Chile, Argentina, Colombia, Mexico, Ecuador, India, Indonesia, Vietnam, South Korea, Malaysia, Thailand, Ethiopia, Ghana, Kenya, Tanzania, Nigeria, Mali, Mozambique.
Job/Position Description- 
Done by the admission committees of the study programmes and the Wageningen University Fellowship Programme. Selection criteria are based on individual quality aspects and on strategic aspects. Use will be made of the MSc application file.
If possible, we try to combine the tuition fee waivers with co-financing from other organisations, like the Anne van den Ban Scholarship Fund, so that a (nearly) complete scholarship can be offered. It is not possible to apply directly for a WUFP waiver.
Tuition fee waiver for 24 months.
How to Apply- 
All admitted students can apply for a scholarship through the scholarship application form. The Admissions Office sends the application form to all eligible students. Students are given the opportunity to submit the application with all official and required documents.
Last Date for Apply– 1 March 2021
More Opportnities:-
UWGSS Graduate Studies Scholarship at the University of Winnipeg, Canada
Amsterdam Merit Scholarship at Universiteit van Amsterdam, Netherlands
Bangchak Master Scholarships 2021 at Asian Institute of Technology (AIT) in Thailand
Postgraduate Research Scholarship at The University of Sydney, Australia