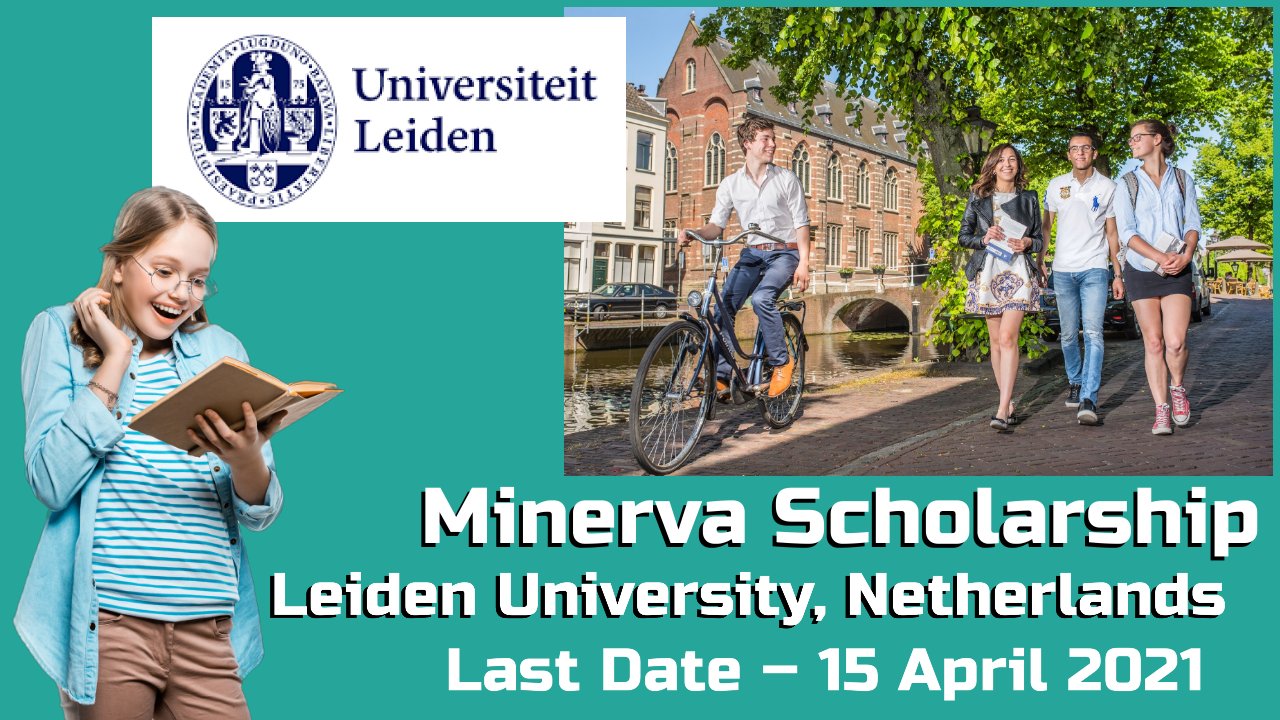 Designation/Position- Minerva Scholarship Fund
Leiden University, Netherlands invites application for Fully Funded Minerva Scholarship Fund for eligible and interested candidates
About- Since 2009, the Minerva Scholarship Fund Foundation (MSF) has provided Leiden University students of all disciplines with scholarships for study and research projects. The MSF also strives to support exceptional student projects overseas. The Minerva Scholarship Fund Foundation aims to provide scholarships for study and research projects within various fields of study. In particular, the MSF strives to fund exceptional and exclusive student projects, both in the Netherlands and abroad. The Minerva Scholarship Fund is an initiative of the Leiden Minerva Student Association.
Study level- Master's Degree
Location- Leiden University, Netherlands
Eligibility/Qualification–
You are registered as a Bachelor or Master student at Leiden University.
You do not need to be a member of L.S.V. Minerva.
The application pertains to an exceptional or prestigious study or research project in the Netherlands or abroad.
The project falls into one of the following categories: internship, study or research.  PhD tracks and complete Master programmes are not eligible. 
Job/Position Description- 
Deadline- 15 December and 15 April
Target group- Bachelor, Master
Countries/ nationalities- All countries Scholarship type Internship, Study, Research
Faculty- Archaeology, Humanities, Medicine/LUMC, Governance and Global Affairs, Law, Social and Behavioral Sciences, Science, Interfacultair Centrum voor Lerarenopleiding, Onderwijsontwikkeling en Nascholing (ICLON)
Scholarship amount
Between €900 and €2000
The following expenses can be subsidised: research costs; international travel and living costs.
How to Apply- 
Download an application form from www.minervascholarshipfund.com.
Complete the form.
Check you have all the required documents.
Submit your complete application dossier to the address provided, before the deadline.
Note: There are two MSF application rounds per year. The deadlines for these are 15 April and 15 December.
Last Date for Apply– 15 April 2021
More Opportnities:-
UWGSS Graduate Studies Scholarship at the University of Winnipeg, Canada
Amsterdam Merit Scholarship at Universiteit van Amsterdam, Netherlands
Bangchak Master Scholarships 2021 at Asian Institute of Technology (AIT) in Thailand
Postgraduate Research Scholarship at The University of Sydney, Australia