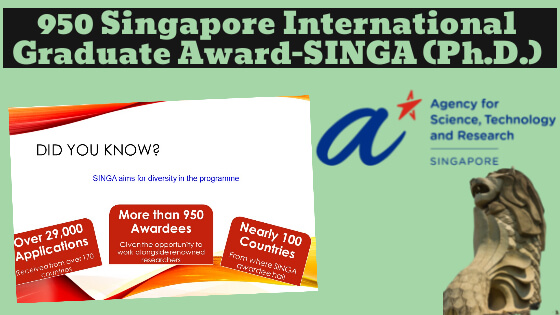 The Singapore International Graduate Award is now accepting Ph.D. applications. SINGA is an Agency for Science, Technology & Research (A*STAR) collaboration.
SINGA Graduate Awards are open to all international students. Singapore is a hub for Asia's fastest-growing economies. With SINGA, you can complete your Ph.D. in Singapore, build global networks, and advance your research career.
Singapore International Graduate Award
Summary
The Singapore International Graduate Award is now accepting Ph.D. applications.
The deadline for January 2023 submissions is 1 June 2022 (2359 GMT +8).
More than 900 scholarships are available.
All international students can apply.
A*STAR Research Institutes, NTU, NUS, or SUTD will provide Ph.D. training in English. These labs will have world-renowned researchers supervising students.
Singapore International Graduate Award
| | |
| --- | --- |
| University | Singa |
| Country | Singapore |
| Degree Level | PhD |
| Deadline | 01 June 2022 |
Scholarship Description
DURATION– The Singa scholarship will last for a total of four years.
NUMBER OF SCHOLARSHIP- The total number of scholarships awarded is at least 900.
Students will be awarded a Ph.D. degree by one of the participating universities upon successful completion of the program.
Nanyang Technological University (NTU)
The National University of Singapore (NUS)
Singapore University of Technology and Design (SUTD)
The following are the research areas covered by the Ph.D. program:
Biomedical Science
Engineering
Physical Science
The following items are covered by the Scholarship:
Fees for attendance at school
A stipend of S$2,000 per month, which will be increased to S$2,500 after passing the Qualifying Examination, will be paid to you.
Up to S $1,500* in one-time airfare assistance. 
Up to S $1,000* in one-time settling-in assistance.
Eligibilty
Applicants from abroad are welcome.
All international students are welcome to submit an application.
Graduates who have a strong interest in research and have achieved excellent academic results
Excellent written and oral English communication skills;
positive recommendations from academic referees
Required Documents
All applicants will be required to submit the following information:
Passport
All degree / Transcripts
Optional GRE / IELTS / TOEFL / SAT I & II / GATE results.
Required Supervisor for Ph.D. research
CV
Recommendations letters
Recent Passport size photo
Previous Research paper (if available)
How to Apply:
To be considered for the University of Hertfordshire Scholarships 2022, you must submit your application to the College at the following address: doctoralcollegeadmissions@herts.ac.uk.
The application form has been completed and submitted.
There are two scholarly references in this section.
A certified copy of your diplomas and transcripts, as well as a copy of your passport
Certificate in International English Language Testing System (IELTS)
Last Date for Apply– 01 June 2022
More Opportunities
Fully Funded University of New England Scholarship in University of New…
Griffith University International Postgraduate Research Scholarship in Australia
Fully Funded National Chiao Tung University Scholarships in Taiwan
Huayu Enrichment Scholarship (HES) for International Students in Taiwan
https://techstour.com/taiwan-international-graduate-scholarship-program/