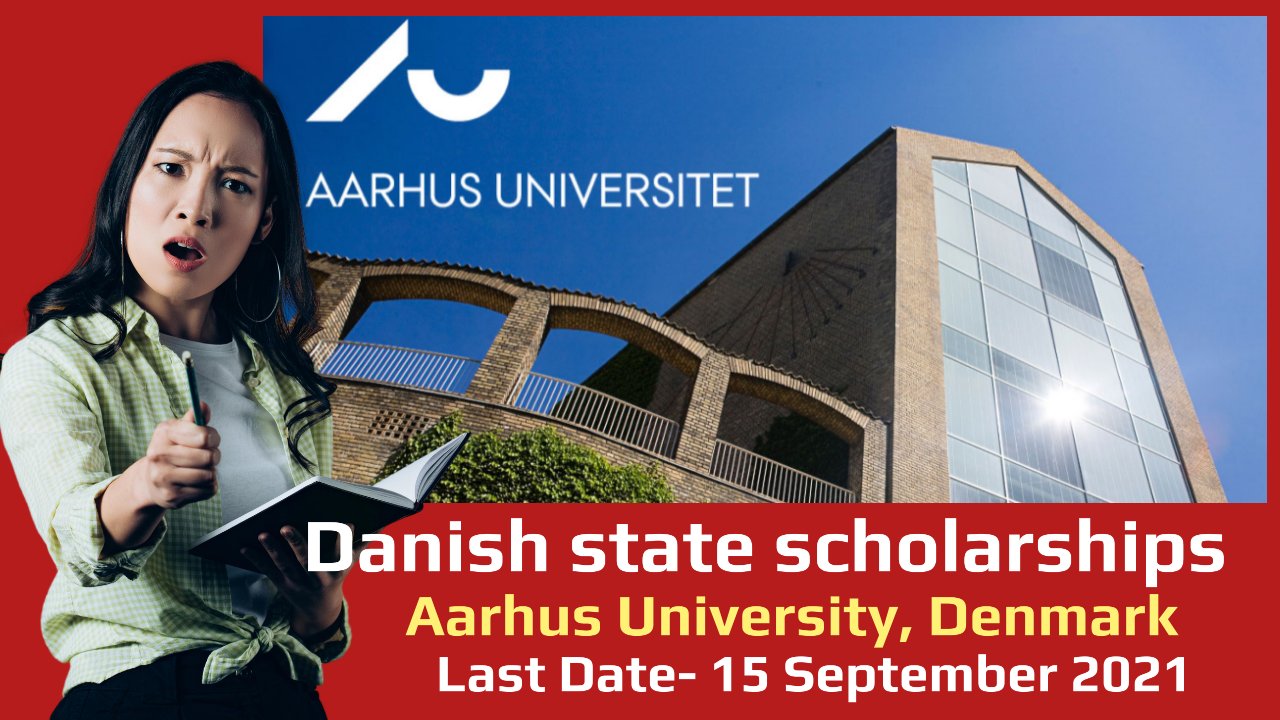 Designation/Position- Aarhus University, Denmark
Aarhus University, Denmark invites application for Danish state scholarships (Fully Funded) for eligible and interested candidates
About- Aarhus University offers a limited number of scholarships to the most talented applicants from outside Europe. Aarhus University offers a limited number of Danish state scholarships for non-EU students. Our scholarships are financed by the Danish state. Aarhus University does not have its own scholarship funds, but rely solely on funding from the Danish state for this purpose.
Scholarships can only be awarded to applicants who are liable to pay tuition fees.
Find out more about Aarhus University's Danish state scholarships, external scholarships and loan programmes and some of the frequently asked questions about funding.
Study level- Bachelor's, master's (candidatus) degree or PhD programme
Location- Aarhus University, Denmark
Eligibility/Qualification–
You must document that you have sufficient funds to support yourself during your stay in Denmark if you apply for a residence permit
as a student
based on the Start-up Denmark Scheme
as a guest researcher
in order to obtain an authorisation as a medical doctor, a dentist or a nurse
based on an establishment card if you have completed a Danish professional bachelor's, bachelor's, master's (candidatus) degree or PhD programme
as a PhD student doing either a complete programme or part of a programme in Denmark
as an unpaid intern
based on the Working Holiday Scheme
If a family member applies for a residence permit as an accompanying family member, you most document that you have sufficient funds to support the family member as well.
The documentation can for example be a bank statement in your name or a scholarship covering your living expenses while studying or while doing an unpaid internship in Denmark.
Crypto Currency (virtual currency) – e.g. Bitcoins or Stablecoins – are not accepted as documentation for sufficient funds and must therefore be exchanged for Danish kroner (DKK) or other foreign currency. As regards exchange, we refer you to the companies that are registered with the Danish Financial Supervisory Authority as exchangers of crypto currency for Danish kroner.
When you have been granted a permit, you must support yourself and your accompanying family members by using your own funds. You must not receive public benefits. You can see a list of benefits that you are not allowed to receive here.
Job/Position Description- 
The content of a scholarship varies. In some cases, the scholarship is a full or partly tuition waiver. In other cases, the tuition waiver includes a monthly grant towards living expenses, typically but not always for the duration of your Master's degree programme.
Some faculties only offer tuition waivers. In this case, the faculty may be able to offer other relevant services to its tuition waiver recipients, e.g. assistance in searching for a relevant student job.
Please note that if you are offered a tuition waiver only, it is a requirement for obtaining a student residence permit that you have sufficient funds to be able to support yourself financially during your stay in Denmark. Read more at the website of the Danish Agency for International Recruitment and integration.
How to Apply- 
When you apply for admission, your application will automatically be assessed with a view to a possible scholarship along with our academic assessment of your qualifications. You should not upload any additional documentation to your application for admission..    
The scholarship is connected very specifically to your Master's degree programme and cannot be transferred to another degree programme at AU. 
Last Date for Apply– 15 September 2021
More Opportunities:-
DAAD-STIBET Program by Dresden University of Technology, Germany
DAAD Scholarships for Postgraduate Study Programmes in Germany
School Excellence Scholarship by University of Kent, England
Sir Edmund Hillary Scholarship at University of Waikato, New Zealand